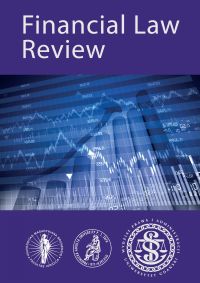 Financial Law Review
Editor-in-Chief: Anna Jurkowska-Zeidler
Secretary of Editorial Board: Anna Drywa
Financial Law Review is a quarterly scientific journal devoted to the issues of public finances and financial law. All texts published in the journal are peer-reviewed.
The mission of the journal is to provide a forum for exchange of knowledge and ideas within the scientific community and to popularize publications among the representatives of finance, business and politics. The main idea is to provide a bridge between science and practice that allows two-way flow of inspirations and ideas and together to solve the complex problems of the modern world of finance.
The main aim of FLR is:
•  presentation of scientific contribution in the field of public finance, financial law of international significance and reinforcement of the international cooperation and exchange of scientific ideas and the integration of the scientific community; 
•  development of the financial law doctrine and the science of public finance and its impact on the economic, social and political sphere by allowing both authors and readers to participate in an international scientific circuit;
•  to provide readers of FLR access to the latest research results of the most outstanding representatives of law and economics sciences in the context of most important problems in the field of finance.

These objectives shall be pursued by means of:
•  publication of scientific articles conforming to the highest standards of publishing;
•  active promotion of articles published in the scientific, business and political community using all forms and channels of information, including the use of social network and the specialized abstract services and databases;
•  organization or co-organization of scientific symposiums and conferences;
•  establishment and coordination of co-operation with renown international scientific centres.
Owner:
University of Gdańsk - Centre for Local Government Law and Local Finance Law of the University of Gdańsk
Publishing Partners:
Department of Financial Law and National Economy of the Faculty of Law of Masaryk University in Brno;
Department of Financial Law, Tax Law and Economics of the Faculty of Law at the Pavel Jozef Šafárik University in Košice;
Department of Financial Law, Faculty of Law at the State University of Voronezh - COOPERATION SUSPENDED SINCE MARCH 2022.
Publisher:
Jagiellonian University Press
e-ISSN 2299-6834
MEiN points: 100

FLR is published and distributed quarterly in electronic form in open access formula.