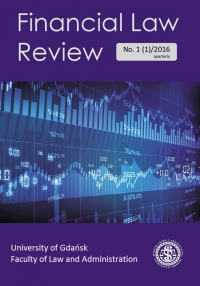 Financial Law Review is a scientific journal devoted to the issues of public finances and financial law. The inspiration for the establishment of FLR is innovation processes taking place within the public and private financial sector. Dynamics of changes in the sector is attracting new researchers in the field of legal and economic sciences and the growing importance of this issue for the economic and social system increases the number of people interested in broadening their knowledge in this area. In such circumstances, we got best reasons for the establishment of a scientific journal, which will be following new trends and picking up new research challenges. The mission of the journal is to provide a forum for exchange of knowledge and ideas within the scientific community and to popularize publications among the representatives of finance, business and politics. The main idea is to provide a bridge between science and practice that allows two-way flow of inspirations and ideas and together to solve the complex problems of the modern world of finance.
Publisher:
University of Gdańsk - Centre for Local Government Law and Local Finance Law of the University of Gdańsk
Publishing Partners:
Department of Financial Law and National Economy of the Faculty of Law of Masaryk University in Brno
Department of Financial Law, Tax Law and Economics of the Faculty of Law at the Pavel Jozef Šafárik University in Košice
Department of Financial Law, Faculty of Law at the State University of Voronezh

FLR is distributed as a quarterly published and sold electronically.