Ethics of the professional drivers. Case study of public transport
Joanna Fryca-Knop

University of Gdańsk

Beata Majecka

University of Gdańsk
Keywords:
ethics, work ethics, professional driver, public transport
Abstract
Many factors affect the quality of public transport. Apart from the traditional elements, the behaviour of the people having contact with the passengers, i.e. the drivers, matters a lot. Currently, the ethical aspects of the professional drivers' work have a growing significance. Therefore it seems appropriate to review the determinants of the behaviour of this group. It has been assumed that these determinants depend both on the driver himself and on his work environment. Hence, the reasons and consequences of the moral dilemmas which occur due to the conflicts between the person and the organisation have been pointed out. 
References
Carroll, A.B. (2000), Ethical challenges for business in the new millennium: Corporate social responsibility and models of management morality, Business Ethics Quarterly, 1.
CIOP (n.d.), Kierowca samochodu ciężarowego. Available from https://www.ciop.pl/CIOPPortalWAR/appmanager/ciop/pl?_nfpb=true&_pageLabel=P7200142851340545953779&html_tresc_root_id=19019&html_tresc_id=18971&html_klucz=19019&html_klucz_spis=[Accessed 26 March 2018].
Figura, J. and Michałowska, M. (2016), Społeczna odpowiedzialność biznesu jako czynnik kształtowania innowacyjności w sektorze transportu – spedycji – logistyki, Problemy Transportu i Logistyki, 3.
Fishbein, M. and Ajzen, I. (2010), Predicting and changing behavior: Thereasoned action approach, Psychology Press (Taylor & Francis), New York.
Fryca-Knop, J. and Majecka, B. (2018), The Research Principles of Drivers' Behaviour in the Labour Market of Road Transport in Poland. Deconstruction of I. Ajzen and M. Fishbein Model. In: Suchanek, M. (Ed.), New Research Trends in Transport Sustainability and Innovation. TranSopot 2017 Conference, Springer Proceedings in Business and Economics, Springer, Cham.
Hofstede, G. (2000), Kultury i organizacje. Zaprogramowanie umysłu, PWE, Warszawa.
https://dziennikbaltycki.pl/brakuje-kilkudziesieciu-kierowcow-komunikacji-miejskiej-w-gdansku-czesc-kursow-w-ogole-sie-nie-odbywa/ar/13233331 [Accessed 12 September 2018].
http://www.km.kolobrzeg.pl/o-firmie/kodeks-etyczny-pracownikow?showall=&start=1 [Accessed 9 September 2018].
https://www.kmplock.eu/www/kodeks-etyki/ [Accessed 9 September 2018].
http://www.mza.waw.pl/spolka-mza/informacje-o-spolce/kodeks-etyki-mza [Accessed 9 September 2018].
https://www.trojmiasto.pl/wiadomosci/Gdansk-zmiany-w-komunikacji-miejskiej-n126837.html [Accessed 12 September 2018].
Jak zostać kierowcą zawodowym, czyli zawód, którego kryzys nie dotyczy (n.d.). Available from https://poldek.pl/jak-zostac-kierowca-zawodowym [Accessed 26 March 2018].
Juszczuk, A. (n.d.), Jakie kompetencje (miękkie) powinien mieć kierowca zawodowy? Available from http://www.jobfitter.pl/kariera/jakie-kompetencje-miekkie-powinien-miec-kierowca-zawodowy [Accessed 26 March 2018].
Kietliński, K., Martinez Reyes, V. and Oleksyn, T. (2005), Etyka w biznesie i zarządzaniu, Oficyna Ekonomiczna, Kraków.
Lewicka-Strzałecka, A. (1999), Etyczne standardy firm i pracowników, IFiS PAN, Warszawa.
Michalik, M. (2003), Od etyki zawodowej do etyki biznesu, Fundacja INNOWACJA i Wyższa Szkoła Społeczno-Ekonomiczna, Warszawa.
Regulation (EC) No 561/2006 of the European Parliament and of the Council of 15 March 2006 on the harmonisation of certain social legislation relating to road transport and amending Council Regulations (EEC) No 3821/85 and (EC) No 2135/98 and repealing Council Regulation (EEC) No 3820/85.
Rybak, M. (2004), Etyka menedżera – społeczna odpowiedzialność przedsiębiorstwa, Wydawnictwo Naukowe PWN, Warszawa.
Siemiński, M. (2008), Kształtowanie kultury organizacyjnej przedsiębiorstw przemysłowych, TNOiK "Dom Organizatora", Toruń.
Stańczyk, S. (2008), Nurt kulturowy w zarządzaniu, Wydawnictwo Uniwersytetu Ekonomicznego we Wrocławiu, Wrocław.
Sułkowski, Ł. (2012), Kulturowe procesy zarządzania, Difin, Warszawa.
Świadectwo kwalifikacji zawodowej dla kierowców (n.d.). Available from http://abc-szkolenia.com/swiadectwa-kwalifikacji-zawodowej/ [Accessed 26 March 2018].
Ustawa z dnia 6 września 2001 r. o transporcie drogowym (Dz. U. Nr 125, poz. 1371, ze zm.).
Żuraw, P. (2012), Etyka jako narzędzie wspomagające zarządzanie ośrodkiem szkolenia kierowców, Logistyka, 3.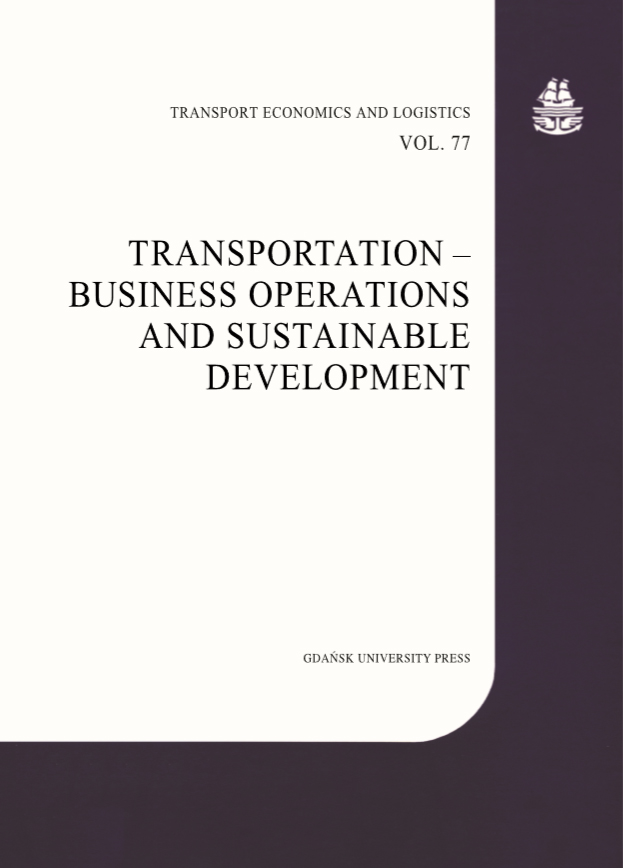 How to Cite
Fryca-Knop, J., & Majecka, B. (2018). Ethics of the professional drivers. Case study of public transport. Transport Economics and Logistics, 77, 7-17. https://doi.org/10.26881/etil.2018.77.01
Section
Transport development and Performance