Problems and prospects of development of tourism infrastructure in the Republic of Kazakhstan
Тangal Tursynova

L. N. Gumilyov Eurasian National University

Zharas Berdenov

L. N. Gumilyov Eurasian National University

Roza Faley

L. N. Gumilyov Eurasian National University
Keywords:
international tourism, tourism infrastructure, accommodation facilities, tourist activities, foreign investors, public-private partnership, Kazakhstan
Abstract
Analyzed the state of tourism infrastructure in the Republic of Kazakhstan. Displaying poor development of the basic elements of tourism infrastructure: transport, accommodation, catering, training. Thеre were formulated the ways of solving the existing problems of development of tourism infrastructure, particularly in the information and organizational support.
References
% turistov poseŝaût Kazahstan tol'ko odin raz (Eng. 90% of tourists visit Kazakhstan only once), 2010, http://oskemen.info/3180-90-turistov-poseshhayut-kazaxstantolko-odin-raz.html (accessed 22 August 2018).
Baktiyarova A., 2018, Kak budet privlekat' turistov Mangistauskaya oblast' (Eng. How will attract tourists Mangystau region), https://kapital.kz/economic/72749/kak-budetprivlekat-turistov-mangistauskaya-oblast.html (accessed 18 October, 2018).
Berdenov Zh.G., Atasoy E., Mendybayev E.H., Ataeva G., Wendt J.A., 2016, Geosystems geoecological assessment of the basin of rivers for tourist valorization. Case study of Ilek river basin, GeoJournal of Tourism and Geosites, 18, 187–188.
Belyk E., 2012, Meždunarodnye dohody ot turizma b'ût bovyj rekord (Eng. International tourism revenues hit a new record), http://www.tourprom.ru/news/16936/ (accessed 11 September 2018).
Esembekova D., 2015, Sfera turizma – vozmožnosti dlâ investor (Eng. Tourism – opportunities for investors), https://kapital.kz/economic/45983/sfera-turizma-vozmozhnostidlya-investora.html (accessed 22 October, 2018).
Isabekov S.B, Ayapbekova A.E, Demeuov A.B., 2016, Turizm – Ehkonomika – Gosudarstvo (Eng.Tourism-EconomicsState), https://yvision.kz/post/695533. (accessed 31 September 2018).
Keneeva G., 2016, Kak razvitie turizma vliâet na investicionnuû privlekatel'nost' strany (Eng. As tourism development affects the investment attractiveness of the country), http:// forbes.kz/finances/investment/kak_razvitie_turizma_vliyaet_na_investitsionnuyu_privlekatelnost_stranyi_1/ (accessed 20 December 2018).
Kvartalnov V.A., Romanov A.A., 2008, Mezhdunarodnyj turizm: politika razvitiya (Eng. International tourism development policy), Finansy i statistika, Moskva.
Ministry of Industry and Infrastructural Development of the Republic of Kazakhstan, http://miid.gov.kz/en (accessed 28 September 2018).
Nikolaev I.P., 2003, Mirovaya ehkonomika (Eng. The World economy: textbook for universities), [in:] I.P. Nikolaev (ed.), Uchebnoe posobie dlya Vuzov, YUniti, Moskva, 45–46.
Sovmestnoe zaâvlenie Âponii i Respubliki Kazahstan «O rasširennom strategičeskom partnerstve v vek procvetaniâ Azii» (Eng. Joint Statement of Japan and the Republic of Kazakhstan "On Expanded Strategic Partnership in the Age of Asian Prosperity"), 2016, https://www.kz.emb-japan.go.jp/files/000202021.pdf (30 September 2018).
The strategic plan of the Ministry of tourism and sports of Kazakhstan for 2010-2015. No. 101 from 08.02.2011 g., 2011, Ministry of Tourism and Sports of the Republic of Kazakhstan, Astana.
Vahitova D., 2008, Razvitie turistskoj infrastruktury v regionah (Eng. Development of tourist infrastructure in the regions), Expert Kazakhstan, 7, 15–16.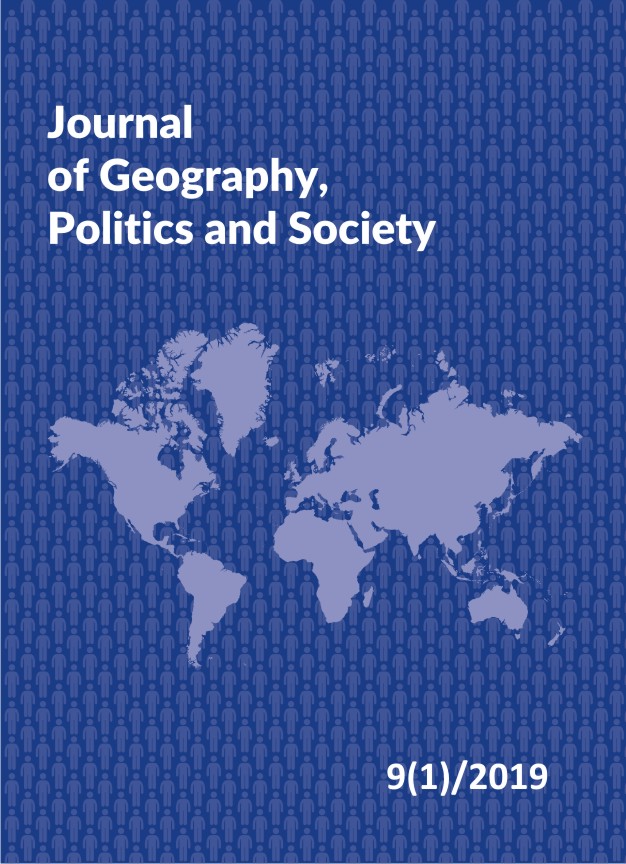 How to Cite
TursynovaТ., Berdenov, Z., & Faley, R. (2019). Problems and prospects of development of tourism infrastructure in the Republic of Kazakhstan. Journal of Geography, Politics and Society, 9(1), 28-32. https://doi.org/10.26881/jpgs.2019.1.04