Writing (in) melancholy. Loss and remembrance in the works of two contemporary Hindi writers
Słowa kluczowe:
melancholy, loss, mourning, Teij Grover, Udayan Vajpeyi, Hindi literature
Abstrakt
The paper aims at analysing the question of melancholy and memory in contemporary Hindi literature. The author selected works by two Hindi writers (T. Grover and U. Vajpeyi), who represent similar approach towards literature and use similar means of expression. The two main motifs characteristic for their writing – love (pyār) and loss (a-bhāv) – are closely related to the creative process: the loved one is the lost object, the one subjugated to melancholy, who can be remembered through writing. In the light of A. Świeściak's idea of "melancholic subject" and S. Bahun's concept of "performing melancholia", the author discusses ways in which both the writers construct their literary world, inhabit it with loved/absent objects (beloved, father), and mourn their loss. The subject in their writing is both fictional and biographical, so the loss relates to literary as well as real events, becomes multidimensional. In Grover's Blue, the subject's separation with the beloved leads her to realise the loss of her father in childhood, and thus unveils the mourning and melancholy (symbolically represented by blue/Blue). U. Vajpeyi's poems create a space for meeting his lost love, for weeping and remembrance, for exchanging letters (and writing). The results of the present study show that melancholy – as a consequence of loss, mourning, and remembering - becomes a creative force, inducing the author (narrator, subject) to write.
Downloads
Download data is not yet available.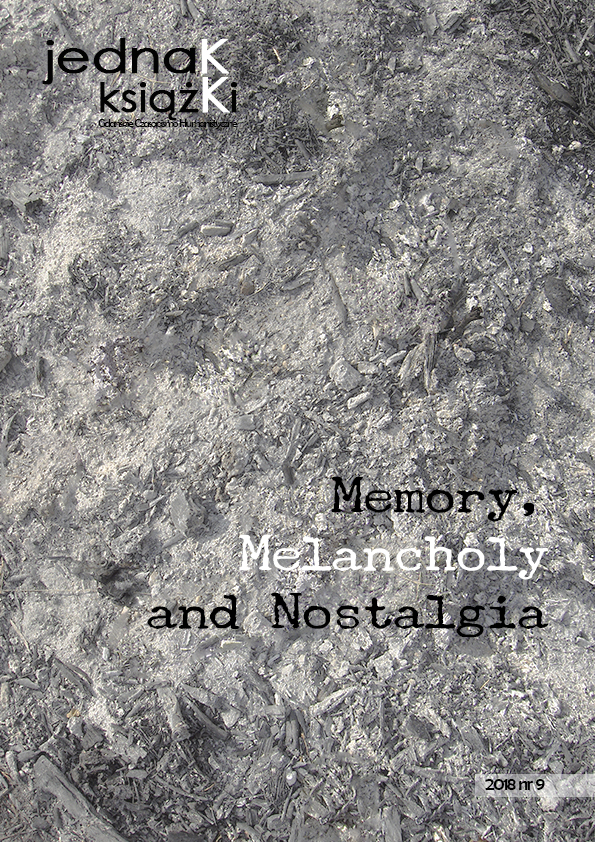 Pobrania
Jak cytować
Junik-Łuniewska, K. (2018). Writing (in) melancholy. Loss and remembrance in the works of two contemporary Hindi writers. Jednak Książki. Gdańskie Czasopismo Humanistyczne, (9), 55–66. https://doi.org/10.26881/jk.2018.9.05