Longing in the Past, Belonging in the Future: An Autoethnographic Fiction
Słowa kluczowe:
longing, belonging, colonization, partition, autoethnography
Abstrakt
In this autoethnographic writing, we explore the concepts of longing and belonging through a collaborative writing process that is fictional at times and autoethnographic at times. We present an experimental and arts-based approach to analyzing and understanding memories, and themes of nostalgia, belongingness, and longing in the present day. Through our autoethnographic fiction (Bochner and Ellis 2016; Ellis 2004) we explore questions such as: what is it like to long and belong, what is it like to long for a future that is embedded in the past, what is it like to futurize/co-futurize memories, and what if the past is the pre-present? As immigrants to Toronto, coming from nations that were once colonized, and still remain in the peripheries of colonization, we ponder about our bodies occupying the third space that we are living in, the feelings of nostalgia and belonging in our fiction. We write about our belongingness to our roots and the trajectories of our beings and think what decolonizing the the concept of memories might evoke. Methodologically, we draw from Erin Manning's (2016) idea of going against method to propose a collaborative autoethnographic fiction writing and collaging practice that implicates our memories and bodies with our surroundings and other bodies, human, beyond human, and material, as instruments of research. We suggest that the decolonization and dehistoricization of memories and our conceptions of longing, belonging, and creating futures embedded in the past can happen by futurizing our notions of memories. We hope that writing a fiction in conversation with one another and in synchronicity of each other's experiences will allow us to deconstruct and problematize our understanding of memories, the frictions between avant-garde and nostalgia and interspersing the collaging practice will allow us to build our stories and explore belongingness and nostalgia, longing for something indefinite and unwanted memories.
Downloads
Download data is not yet available.
Bibliografia
Bochner Arthur, Ellis Carolyn. 2016. Evocative Autoethnography: Writing Lives and Telling Stories. New York: Routledge.
Ellis Carolyn. 2004. The Ethnographic I: A Methodological Novel about Autoethnography (Edition 13). AltaMira Press.
Manning Erin. 2012. Relationscapes: Movement, Art, Philosophy. Cambridge, Massachusetts: The MIT Press.
Rasmussen Anne S., Berntsen Dorthe. 2009. "The Possible Functions of Involuntary Autobiographical Memories." Applied Cognitive Psychology 23: 1137–1152.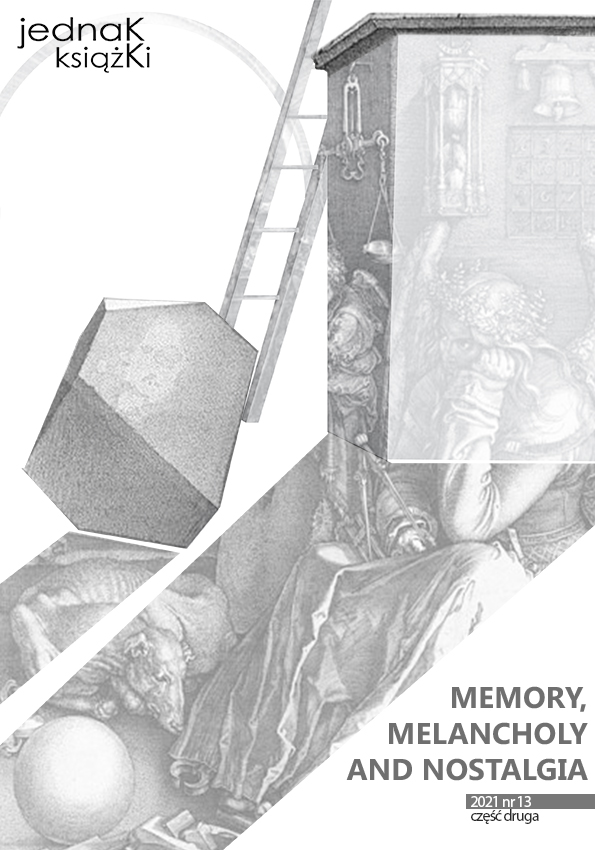 Pobrania
Jak cytować
Joshi, V., & Famarin, I. (2021). Longing in the Past, Belonging in the Future: An Autoethnographic Fiction. Jednak Książki. Gdańskie Czasopismo Humanistyczne, 2(13), 44–54. https://doi.org/10.26881/jk.2021.13.04
Licencja
Utwór dostępny jest na licencji Creative Commons Uznanie autorstwa 4.0 Międzynarodowe.