Jak zwabić muchówkę, czyli o przystosowaniach roślin do zapylania przez Diptera
Słowa kluczowe:
biologia zapylania, kwiatowe atraktanty, mimikra, zoogamia
Downloads
Download data is not yet available.
Bibliografia
Angioy, A.M., Stensmyr, M.C., Urru, I., Puliafito, M., Collu, I., Hansson, B.S., 2004. Function of the heater: the dead horse arum revisited. Proceedings of the Royal Society B: Biological Sciences, 271: 13-15.
Jürgens, A., Dötterl, S., Meve, U., 2006. The chemical nature of fetid floral odours in stapeliads (Apocynaceae-AsclepiadoideaeCeropegieae). New Phytology ,172: 452- 468.
Kite, G.C., Hetterscheid, W.L.A., Lewis, M.J., Boyce, P.C., Ollerton, J., Cocklin, E., Diaz, A., Simmonds, M.S.J., 1998. Inflorescence odours and pollinators of Arum and Amorphophallus (Araceae). [w:] Owens SJ, Rudall PJ, (red.). Reproductive biology. Kew, UK: Royal Botanic Gardens, 295- 315.
Meve, U., Liede, S., 1994. Floral biology and pollination in stapeliads— new results and a literature review. Plant Systematics and Evolution, 192: 99-116.
Ong, P., Tan, K.H., 2011. Fly pollination of four Malaysian species of Bulbophyllum (section Sestochilus)—B. lasianthum, B. lobbii, B. subumbellatum and B. virescens. Malesian Orchid Journal, 8: 103-110.
Seymour, R.S., Gibernau, M., Ito, K., 2003. Thermogenesis and respiration of inflorescences of the dead horse arum Helicodiceros muscivorus, a pseudo-thermoregulatory aroid associated with fly pollination. Functional Ecology, 17: 886- 894.
Woodcock, T.S., Larson, B.M., Kevan, P.G., Inouye, D.W., Lunau, K., 2014. Flies and flowers II: Floral attractants and rewards. Journal of Pollination Ecology, 12: 63-94.
Zito, P., Sajeva, M., Raspi, A., Dötterl, S., 2014. Dimethyl disulfide and dimethyl trisulfide: so similar yet so different in evoking biological responses in saprophilous flies. Chemoecology 24:261–267.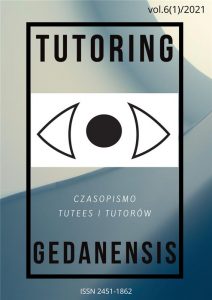 Pobrania
Jak cytować
Wiśniewska, N. (2021). Jak zwabić muchówkę, czyli o przystosowaniach roślin do zapylania przez Diptera. Tutoring Gedanensis, 6(1), 20–25. https://doi.org/10.26881/tutg.2021.1.13