The Fragmentary Narrative in the Nomadic VJ Performance by Peter Greenaway
Kamil Lipiński

Adam Mickiewicz University in Poznań
Słowa kluczowe:
Peter Greenaway's VJ performance, non-linear storytelling
Abstrakt
The article explores fragmentary, transmedia images of the nomadic  Tulse Luper  VJ Performance in terms of activation of the senses. Considering its key characteristics (such as mobility of the spectator, the multiplicity of viewpoints, fragmentary  storytelling), this VJ screen-based performance challenges ordinary assumptions of the cinematic experience. This perspective sheds a new light on the areal connection of the multi-screen environment that exceeds the perception of one linear  story in favour of a kaleidoscopic stream of images and ekphrastic writing. By  analysing spatio-temporal specifics of the No TV Tulse Luper VJ Performance, this  methodological study attempted to demonstrate that the VJ projection could not only be perceived as a reconfiguration of the basic trilogy but also as a unique,  non-linear, touch-based manipulation of storytelling that aims at transforming  a cinematic event into a real-time, expanded audiovisual project.
Bibliografia
Bal M. (2002), Travelling Concepts in the Humanities. A Rough Guide, Toronto: University of Toronto Press.
Bellour R. (2012), Trente – cinq ans aprés: le texte a nouveau introuvable , In La quarelle des dispositifs: Cinéma-installations- expositions , Paris: POL.
Benjamin W (2008). The work of art in the age of their technological reproductibility. trans. Edmund Jephcott and Harry Zohn, In The Work of Art in the Age of Its Technological Reproducibility, and Other Writings on Media , Michael W. Jennings, Brigid Doherty, Thomas Y. Levin (red.], Cambridge/London: The Belknap Press.
Blümlinger Christa (2009), Kino aus zweiter Hand. Zur Ästhetik materieller Aneignung im Film und in der Medienkunst, Berlin: Vorwerk.
Bukataman S. (1998), Ultimate Trip. Special Effects and Kaleidoscopic perception, "Iris" no. 25.
Caroll. N. (2008), The Philosophy of Motion Pictures, Malden, Oxford, Calden: Blackwell Publishing.
Casetti. F. (2007), Theory, Post-theory, Neo-theories: Changes in Discourses, Changes in Objects, "Cinémas: Journal of Film Studies", vol. 17, no. 2-3.
Clifford J. (1990), Fourth Northwest Coast Museums, In Ivan Karp. Steven D. Lavine (red.). Exhibiting Cultures. The Poetics and Politics of Museum Display,Washington & London: Smithsonian Institute Press .
Coumol S. (2001), VJ Culture, "Cahiers du Cinéma", no. 10.
De la Rosa M. (2008), To Look, To Wander: Cinema in Installations, "Cinéma et Cie", no. 11.
Deleuze G., F. Guattari (1994), What is Philosophy?, trans. Hugh Tomlinson and Graham Burchell, New York: Columbia University Press.
Friedberg A. (2006), Virtual Window. From Alberti to Microsoft, Cambridge: MIT PRESS .
Gwóźdź A. (2015), Instalowanie filmu, "Opcje" no. 4.
Elsaesser T. i Hegener M. (2010), Film Theory. An introduction through the senses. New York, London: Routledge.
Hagener M. (2008), Where is cinema (today)?, Cinéma & Cie", no. 2 .
Huhtamo E. (2009), An Archeology of the Media, London: University of California Press.
Jakubowska M. (2007), Peter Greenaway. Pismo o piśmie. In Alicja Helman i Andrzej Pitrus, ed., Autorzy kina europejskiego III, Kraków: Rabid,.Jenkins H., Convergence culture. Where old and new media collide, New York, London: New York University Press, 2008.
Kluszczyński R. W. (2011), Nomadic Images. Transmediality and Hybridity in Contemporary Art, "Art Inquiry. Recherches sur les Arts" no. 2 .
Koch G. (2016), Die Wiederkehr der Illusion: der Film und die Kunst der Gegenwart, Berlin.
Suhrkamp Lewandowska W. (2013), W pętli obrazów i pamięci mediów. Vj' ing, mapping i Google Street View, "Czas kultury" 2/2013.
Lorenc I. (2010), Minima aesthetica. Szkice o estetyce późnej nowoczesności, Warszawa: Scholar.
Lunenfeld P. (2001), Snap to Grid. A User's Guide to Digital Arts, Media and Cultures, Cambridge & London: MIT Press.
Malabou C (2004), Pierre aime les horranges, In Francis Guibal, Jean Clet Martin (red.) Sens en tous sens, Autour des travaux des Jean-Luc Nancy, Paris: Galilée.
Manovich L.(2002), Language of New Media, Cambridge, Massachusetts, London: MIT PRESS.
Mitchell W.J.T. (1992), Reconfigured Eye. Visual Truth in the Post-Photographic Era, Cambridge & London: MIT PRESS.
Nancy J.-L. (2003), Art, fragment, In Les sens de monde, Paris: Galilée.
Nancy J.-L. (2008), Corpus, Fordham University Press: New York.
Peters H. (2008), The Tulse Luper Suitcases: Peter Greenaway's Left Luggage, In Paula Willoquet Maricondi and Mary Alemany-Galway, ed., Peter Greenaway's Postmodern and Poststructuralist cinema, The Scare Crow: Press Lanham: Maryland, Toronto, Plymouth.
Spiellman Y. (1998), Intermedia and Organization of the Image: Some reflections of Film, Electronic, and Digital Image, "Iris" no. 25.
Szewczyk M. (2016), W stronę wirtualności. Praktyki artystyczne kina współczesnego, Warszawa: Instytut Badań Literackich PAN.
Weibel P. (2002), Narrated Theory: Multiple Projection and Multiple Narration (Past and Future), In Martin Riser, Andrea Zapp, ed., New Screen Media. Cinema/Art./Narrative, London: BFI Publishing.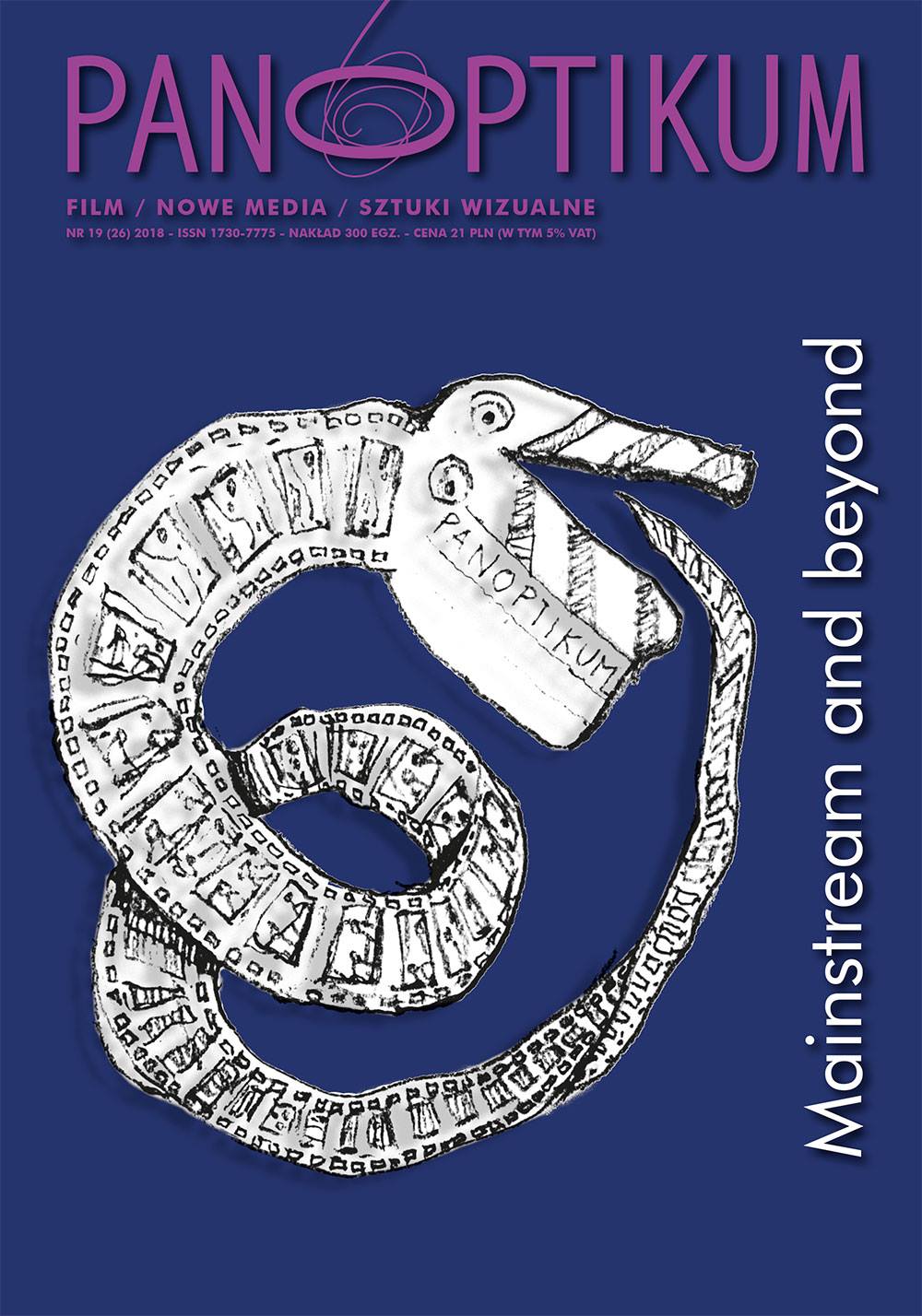 Jak cytować
Lipiński, K. (2018). The Fragmentary Narrative in the Nomadic VJ Performance by Peter Greenaway. Panoptikum, (19), 108-120. https://doi.org/10.26881/pan.2018.19.08