Przejawy nostalgii w dziedzinie sztuki filmowej: studium przypadku musicalu filmowego
Słowa kluczowe:
nostalgia, film musical, American film musical, Great Depression, American history
Abstrakt
This article deals with the notion of nostalgia, especially nostalgia appearing in the film medium, and more specifically in the American film musical. After tracing the birth of the concept of nostalgia, recalled here are the characteristics of nostalgia, which in a film musical are associated with the fashion for retro, evoking the old times, associated with a better life, prosperity, compared to contemporary times. Traces of nostalgia in the film musical can be seen especially in films from the Great Depression period, but the current fashion for nostalgia is strongly manifested for example in La La Land, the most successful musical of past years, which marked the genres renaissance.
Downloads
Download data is not yet available.
Bibliografia
AFI. (2005). AFI's 25 Great Movie Musicals of All Time. http://www.afi.com/100years/ musicals.aspx, dostęp 13.09.2019.
Bahr L. (2012). 'Singin' in the Rain': 60 Years Later, and Example of Film Nostalgia Done Right. https://www.theatlantic.com/entertainment/archive/2012/04/singin-in-the-rain- 60-years-later-an-example-of-film-nostalgia-done-right/255732/, dostęp 23.09.2019.
Boym S. (2001). The Future of Nostalgia. New York: Basic Books.
Boym S. (2014). Dyskomfort nostalgii. [w:] K. Kończal, (red.) (Kon)teksty Kultury, Antologia. Warszawa: Narodowe Centrum Kultury.
DeFalco A. (2004). A Double-Edged Longing: Nostalgia, Melodrama, and Todd Haynes's Far From Heaven. "Iowa Journal of Cultural Studies".
Hutcheon L., Valdés M. (1998-2000). Irony, Nostalgia and the Postmodern. Toronto: University of Toronto.
Jameson F. (1982). Postmodernism and Consumer Society. http://art.ucsc.edu/sites/default/ files/Jameson_Postmodernism_and_Consumer_Society.pdf, dostęp 09.09.2019.
Jameson, F. (1991). Postmodernism, or, The Cultural Logic of Late Capitalism. Durham, NC: Duke University Press.
Kanoiowska K. (2003). Antropologia i problem pamięci. "Konteksty. Polska Sztuka Ludowa", nr 3–4.
Kenrick J. (2004). History of Musical Film. 1930S Part II: Warner Brothers & Berkeley. http://www.musicals101.com/1930film2.htm, dostęp 18.09.2019.
Lewicka M., Prusik M., Zaleski M. (2014). Nostalgia, [w:] M. Saryusz-Wolska, R. Traba, (red.) Modi Memorandi. Leksykon Kultury Pamięci. Warszawa: Wydawnictwo Naukowe Scholar.
Reynolds S. (2011). Retromania: Pop Culture's Addiction to Its Own Past. New York: Faber and Faber.
Sims D. (2017). La La Land's Double-Edged Nostalgia. https://www.theatlantic.com/ entertainment/archive/2017/01/la-la-lands-double-edged-nostalgia/512351/, dostęp 23.09.2019.
Shearer, M. (2016) The Nostalgia Musical, [w:] M. Shearer, (red.) New York City and the Hollywood Musical. Dancing in the Streets. London: Palgrave Macmillan.
The Great Depression. https://329768164264292547.weebly.com/the-great-depression. html., dostęp 29.09.2019.
Ward N. (2017). Welcome Back to La La Land – Musicals, Nostalgia and Escaping the Reality. https://theconversation.com/welcome-back-to-la-la-land-musicals-nostalgia-and- escaping-reality-71368, dostęp 22.09.2019.
Włodek P. (2014). Czas zatrzymany – amerykańska nostalgia za epoką rock'n'rolla. "Kwartalnik Filmowy", nr 86.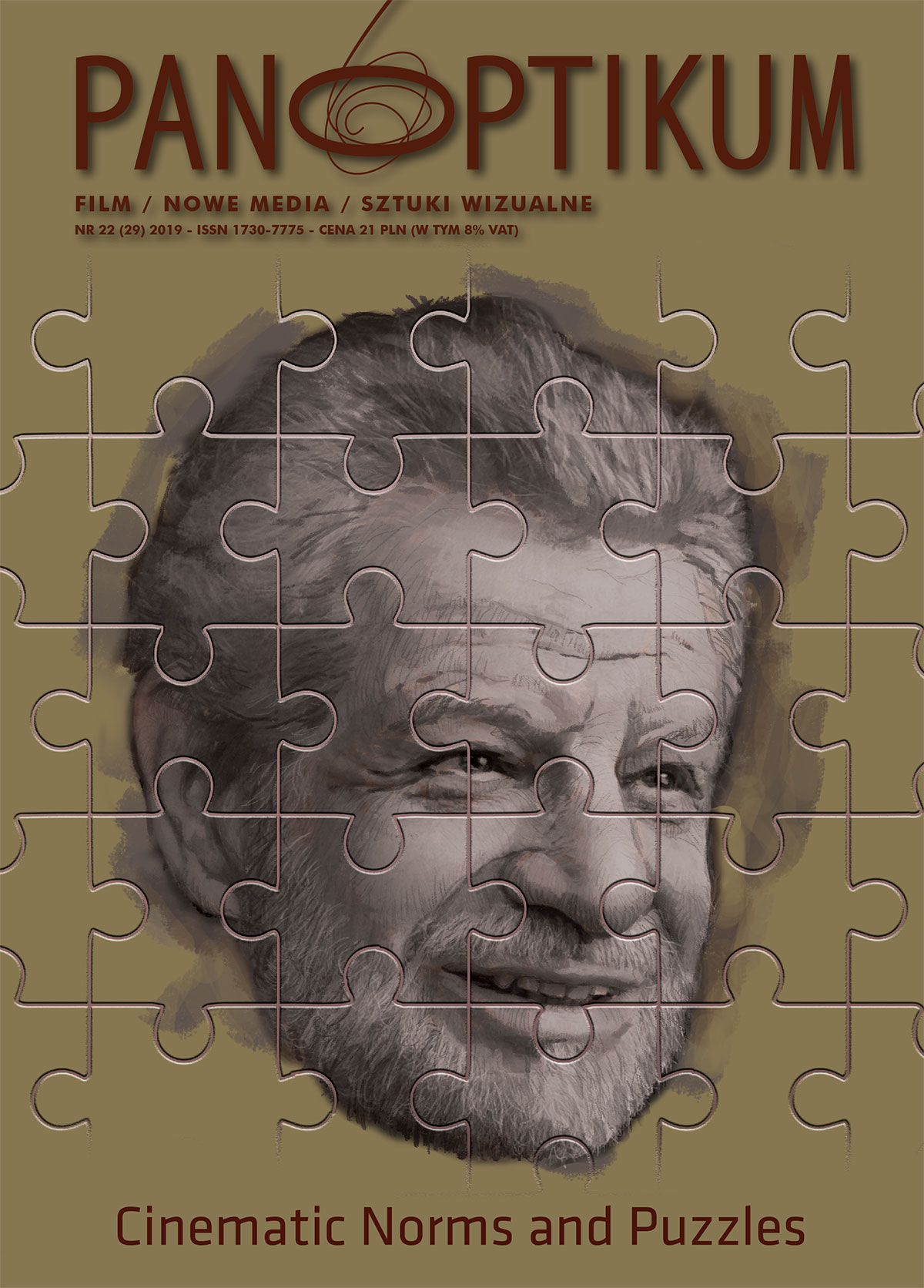 Pobrania
Jak cytować
Kwaczyńska, O. (2019). Przejawy nostalgii w dziedzinie sztuki filmowej: studium przypadku musicalu filmowego . Panoptikum, (22), 209–220. https://doi.org/10.26881/pan.2019.22.09