Entextualizing History through Archives: Representation of Muslim Identity in Post 9/11 Documentaries
Słowa kluczowe:
post 9/11 media, documentary, entextualization, Muslim representation
Abstrakt
Representation of Muslims in media post the Sept 11 attacks in the US largely focused on themes of terrorism and extremism. Such homogenized representation was particularly problematic in non-fiction media such as news and documentaries which use archival footage to create 'reality'. The consequent circulation of these images across the globe is one of the many examples through which Muslim representation has been constructed through stock footage and sourced media images in media post the 9/11 attacks. In this paper, I examine stock images in documentary films in the form of archives to examine the representation of Muslim identity in the post 9/11 world. Using Malitsky's framework of entextualization to analyze archival material in post 9/11 documentaries, I argue how stock images create a power differential between the East and the West (Said, 1979) reinstating imperial domination. Therefore, this paper intends to examine the use of archives that have been entextualized and re-present history to shape representation of Muslims across spatial and temporal differences through documentary films. To do so, I critically examine two post 9/11 documentaries – Secret Pakistan (2011) and Turning Point: 9/11 and the War on Terror (2021) – to study how these films position the role of Pakistan as an Islamic nation in the Global War on Terror.
Downloads
Download data is not yet available.
Bibliografia
Bail, Ch. A. (2012 ). The Fringe Effect. American Sociological Review, vol. 77, no. 6, pp. 855–879.
Baron, J. (2012). The Archive Effect: Archival Footage as an Experience of Reception. Projections, vol. 6, no. 2, pp. 103–120.
Bauman, R. and Briggs, Ch. L. (1990). Poetics and Performances as Critical Perspectives on Language and Social Life. Annual Review of Anthropology, vol. 19, no. 1, pp. 59–88.
Beydoun, K. A. (2019). American Islamophobia: Understanding The Roots and Rise of Fear. University of California Press.
Cheeka, D. (2020). A New Period in History: Decolonizing Film Archives in a Time of Pandemic Capitalism. In Keidl, P. D., Malamed, L., Heidiger, V., Somaini, A. eds. Pandemic Media: Preliminary Notes toward an Inventory, Meson Press, Lüneburg, Germany, 2020, pp. 357–361.
Corbin, C. M. (2017). Terrorists Are Always Muslim but Never White: At the Intersections of Critical Race Theory and Propaganda. Fordham Law Review , vol. 86, no. 2, pp. 455–485.
Ghareeb, E. (1983). Defining and Researching Islamophobia. Review of Middle East Studies, vol. 46, no. 2, 2012, pp. 180–189. Split Vision: The Portrayal of Arabs in the American Media. American-Arab Affairs Council.
Gunning, T. (2004). What's the point of an index? or, faking photographs. Nordicom Review, vol. 1, no. 2, pp. 39-49.
Gunning, T. (2007). Moving away from the index: Cinema and the impression of reality. Differences: A Journal of feminist cultural studies, vol. 18, no. 1, pp. 29-52.
Jackson, S. (2020). Decolonizing Archives in the Digital Age. Inward Outward: Critical Archival Engagements with Sounds and Films of Coloniality pp. 14-17.
Jaikumar, P. (2019). Where Histories Reside: India as Filmed Space. Duke University Press.
Kabir, S. N. and Bourk, M. (2012). Representing Islam and Muslims in New Zealand Newspapers. Journal of Muslim Minority Affairs, vol. 32, no. 3, pp. 324–338.
Kalow, N. (2011) VISUAL STORYTELLING: The Digital Video Documentary. Center for Documentary Studies at Duke University.
Kazi, N. (2021). Islamophobia, Race, and Global Politics. Rowman & Littlefield.
Kuhn, C. (1996). A Historian's Perspective on Archives and the Documentary Process. The American Archivist, vol. 59, no. 3, pp. 312–320.
Kumar, D. (2022). Islamophobia and the Politics of Empire Twenty Years after 9/11. Verso Books.
Lee, Daw-ming. (2012). Re/Making Histories: On Historical Documentary Film and Taiwan: A People's History. In Sylvia Li-chun Lin and Tze-lan D. Sang eds. Documenting Taiwan on Film. Issues and Methods in New Documentaries, New York, Routledge, pp. 11–37.
Malitsky, J. (2010). Ideologies in Fact: Still and Moving‐Image Documentary in the Soviet Union, 1927–1932. Journal of Linguistic Anthropology 20.2 352-71.
Malitsky, J. (2012). Science and Documentary: Unity, Indexicality, Reality. Journal of Visual Culture, vol. 11, no. 3, , pp. 237–257.
Manjapra, K. (2020). Colonialism in Global Perspective. Cambridge University Press.
Rosenstone, R. A. (2019). History on Film/Film on History. Langara College.
Said, E. W. (1997). Covering Islam. Random House. Scotini, M. and Galasso, E. (2017). Politics of Memory: Documentary and Archive. Archive Books, Berlin.
Sieber, S. (2016). The Politics of Archives. Media, Power, and Identity. In Imesh, K., Schade, S., Sieber, S. eds. Constructions of Cultural Identities in Newsreel Cinema and Television after 1945, Transcript, Bielefeld, pp. 21–38.
Wagner, W. et al. (2012). The Veil and Muslim Women's Identity: Cultural Pressures and Resistance to Stereotyping. Culture & Psychology, vol. 18, no. 4, pp. 521–541.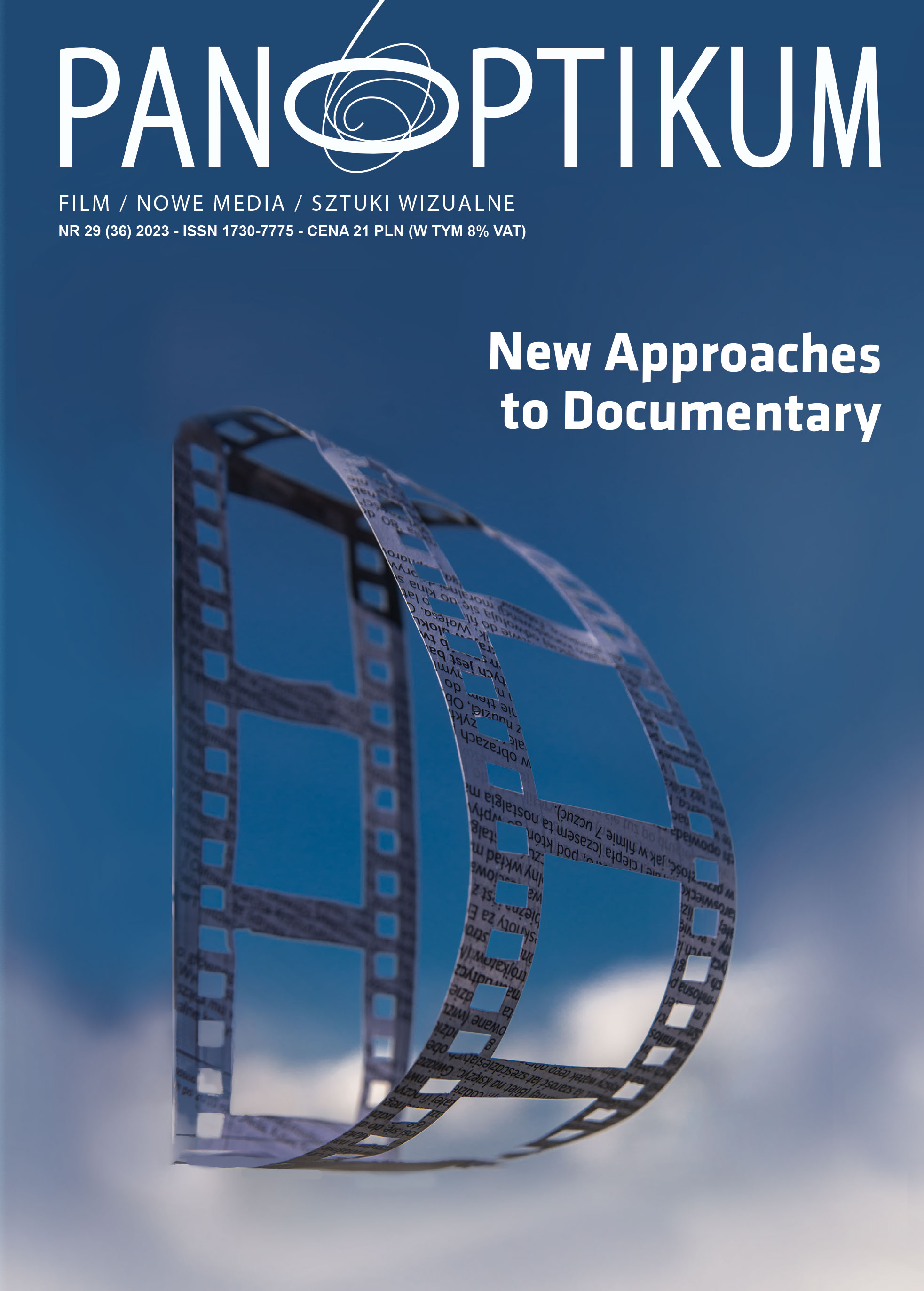 Pobrania
Jak cytować
Sheikh , K. N. (2023). Entextualizing History through Archives: Representation of Muslim Identity in Post 9/11 Documentaries. Panoptikum, (29), 66–77. https://doi.org/10.26881/pan.2023.29.04