Cuteness and aggression in military picturebooks
Słowa kluczowe:
character, cognitive theory of picturebooks, cuteness, military picturebook, propaganda war in children's literature
Abstrakt
As a subspecies of ideologically loaded picturebooks, this chapter focuses on military picturebooks. This term encompasses picturebooks dealing with war and the roles of soldiers. In the first part,a taxonomy of military picturebooks is created which is exemplified by telling examples. The second part focuses on a particular narrative problem of military picturebooks that is of interest to a cognitive theory of picturebooks (as pursued by Kümmerling-Meibauer & Meibauer 2013). On the one hand, it is not possible to represent war as a good thing across the board; on the other hand, war is depicted with respect to certain scenarios of self-defence. The narrative solution seems to be that "cute" characters (that is, anthropomorphic animals and vehicles) are introduced who serve as positive military protagonists that have to fight against aggressive characters representing the enemy. In military picturebooks, there is a contrast between cuteness and aggression that is astonishing when regarding the typical pedagogical demands on the accommodation of picturebooks to the child's cognitive abilities.
Downloads
Download data is not yet available.
Bibliografia
Primary Sources
Bell W. (2011), We Shall Never Forget 9/11. The Kid's Book of Freedom. St. Louis, MO, N.W. Bell Publisher.
Brunhoff J. de (1932), Le voyage de Babar. Paris, Hachette.
Fabrès O. (1942), Kwik and Kwak. With a Preface by Hendrik Willem van Loon. New York, Crown Publishers.
Ferris H. (1944), "Watch me" said the Jeep. Illus. T. Gergely. New York, Garden City Publishing.
Foreman M. (1989), War Boy. A Country Childhood. London, Pavilion Books.
Friend A. (1915), War in Dollyland. Photos by H. Golding. London, Ward, Lock & Co.
Kelen E. (1943), Yussuf the Ostrich. New York, The Hyperion Press.
Townend J. (1944), Jenny the Jeep. London, Faber and Faber.
Secondary Sources
Abate M.A. (2010), Raising Your Kids Right. Children's Literature and American Political Conservativism. New Brunswick, NJ, Rutger's University Press.
Cross G. (2004), The Cute and the Cool. Wondrous Innocence and Modern American Children's Culture. Cambridge, Cambridge University Press.
Gardiner J. (2005), The Children's War. The Second World War through the Eyes of the Children of Britain. London, Piatkus.
Harris P.L. (2012), Trusting What You're Told. How Children Learn from Others. Cambridge, Mass., London, The Belknap Press of Harvard University Press.
Jannidis F. (2009), Character. In P. Hühn, J. Pieter, W. Schmidt, J. Schönert (eds.), Handbook of Narratology. Berlin, New York, de Gruyter.
Johnson J. (2008), Under Ideological Fire: Illustrated Wartime Propaganda for Children. In: E. Goodenough, A. Immel (eds.), Under Fire. Childhood in the Shadow of War. Detroit, Wayne State University Press.
Kümmerling-Meibauer B., Meibauer J. (2013), Towards a Cognitive Theory of Picturebooks. "International Research in Children's Literature", 6 (2).
Mickenberg J.L. (2006), Learning from the Left. Children's Literature, the Cold War, and Radical Politics in the United States. Oxford, Oxford University Press.
Ngai S. (2012), Our Aesthetic Categories. Zany, cute, interesting. Cambridge, MA, Harvard University Press.
Nikolajeva M. (2002), The Rhetoric of Character in Children's Literature. Greenwood, Scarecrow Press.
Nikolajeva M., C. Scott (2001), How Picturebooks Work. New York, Garland.
Siegal M. (2008), Marvelous Minds. The Discovery of What Children Know. Oxford, Oxford University Press.
Stanley J. (2015), How Propaganda Works. Princeton, Princeton University Press.
Vanderbilt K.E., Liu D., Heyman G.D. (2011), The Development of Distrust. "Child Development", 82 (5).
Vermeule B. (2010), Why Do We Care About Literary Characters? Baltimore, The Johns Hopkins University Press.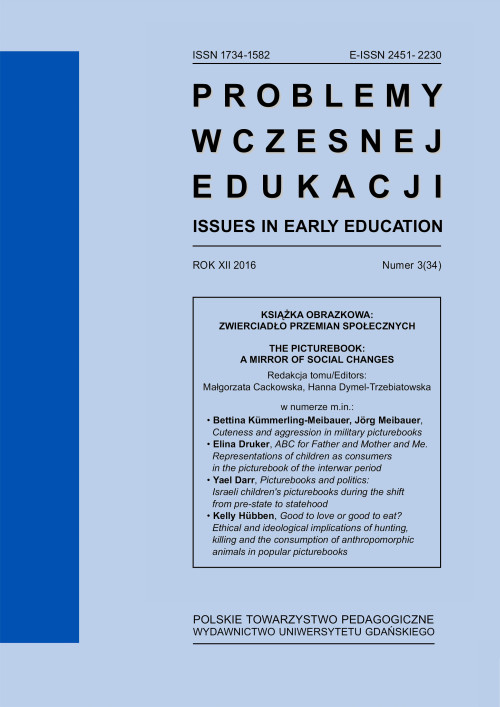 Pobrania
Jak cytować
Kümmerling-Meibauer, B., & Meibauer, J. (2016). Cuteness and aggression in military picturebooks. Problemy Wczesnej Edukacji, 34(3), 7–21. Pobrano z https://czasopisma.bg.ug.edu.pl/index.php/pwe/article/view/788
Dział
Rozprawy i artykuły