Адаптация детей к обучению в первом классе
Słowa kluczowe:
educational concept, educational system, free upbringing, socialisation, social and psychological adaptation, mental health, psychological readiness of teachers
Abstrakt
Upbringing and teaching processes are interrelated. During the separation of these processes some difficulties begin to arise, although in modern educational practice in some countries there is a tendency to separate them. An example of an empirical study of the properties of adaptation of children to school in the first grade shows that in the absence of the willingness of teachers to consider teaching and upbringing as related processes a dissonance is created between the demands of school on the one hand and the creation of psychologically conducive conditions to the education of the child on the other. Poor identification of the health condition of pupils, and reluctance to take into account their individual psychological characteristics do not make it possible to realize well the full scope of the learning process and to create an atmosphere conducive to successful learning in school.
Downloads
Download data is not yet available.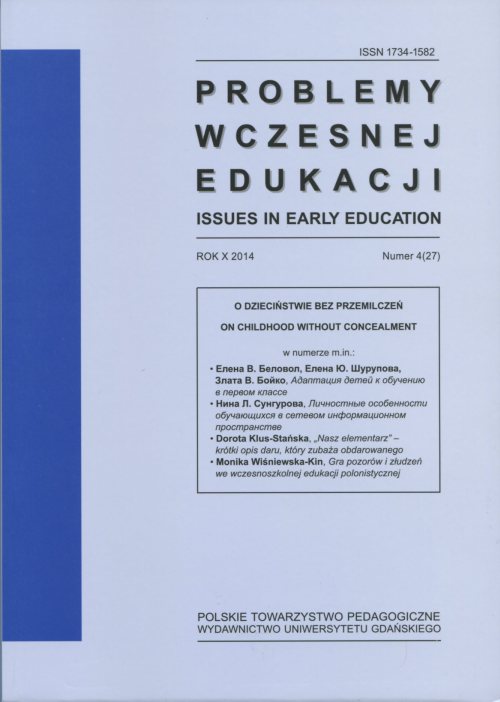 Pobrania
Jak cytować
В. Беловол, Е., Шурупова, Е. Ю., & Бойко, З. В. (2014). Адаптация детей к обучению в первом классе. Problemy Wczesnej Edukacji, 27(4), 7–15. Pobrano z https://czasopisma.bg.ug.edu.pl/index.php/pwe/article/view/856
Dział
Rozprawy i artykuły