"We understand each other, my friend". The freak show and Victorian medicine in "The Elephant Man"
Słowa kluczowe:
The Elephant Man, David Lynch, clinical gaze, cinema, medicine, freak show, deformed body, horror, pornography, body genres
Abstrakt
A large part of David Lynch's oeuvre centres around corporeal anxieties and grotesque, divergent bodies drawing attention to their own biological nature. One such example is the 1980 feature "The Elephant Man", focusing on John Merrick, a freak show performer severely afflicted with a disfiguring disease. The film juxtaposes key characters in the film and moves between their different perspectives: that of Merrick, a freak show performer; Doctor Treves, a man of science; Bytes, an entertainer; and finally, a number of peripheral observers from both the high and low classes of Victorian society. The titular Elephant Man's disfigured body becomes the object of spectacle both in a freak show and in a medical lecture theatre. This paper compares scenes presenting Merrick's body as an exhibit and argues that Lynch draws parallels between the domain of sensational entertainment (Merrick as a  carnival monster) and scientific analysis (Merrick as a medical specimen). In this way, the film highlights the similarities between the perception of the body in those two seemingly incongruous discourses. I suggest that the exhibition of a monstrous body in The Elephant Man, both in the context of a sideshow and Victorian medical lecture, are consciously theatrical.
Downloads
Download data is not yet available.
Bibliografia
Adams, R. (2001), Sideshow U.S.A: Freaks and the American Cultural Imagination, Chicago: University of Chicago.
Bogdan, R. (1990), Freak Show: Presenting Human Oddities for Amusement and Profit, Chicago: University of Chicago.
Carroll, N. (1989), The Philosophy of Horror, New York: Routledge.
Chion, M. (2006), David Lynch, London: BFI.
Daston, L. and Park K. (1998), Wonders and the Order of Nature: 1150-1750, New York: Zone.
Dijck, J., van. (2005), The Transparent Body: A Cultural Analysis of Medical Imaging, Seattle: University of Washington.
Durbach, N. (2010), Spectacle of Deformity: Freak Shows and Modern British Culture, Berkeley: U of California.
Foucault, M. (1979), Discipline and Punish: The Birth of the Prison, (trans. Alan Sheridan), Harmondsworth: Penguin.
Foucault, M. (2003), The Birth of the Clinic, (trans. A. M. Sheridan Smith), London: Routledge.
Garland-Thomson, R. (2017), Extraordinary Bodies. Figuring Physical Disability in American Literature and Culture, New York: Columbia UP.
Grosz, E. (1996), Intolerable Ambiguity: Freaks as/at the Limit, [in:] R. Garland-Thomson (ed.), Freakery. Cultural Spectacles of Extraordinary Bodies, New York and London: New York UP.
Holladay, W. E. and Watt S. (1989), Viewing the Elephant Man. PMLA, 104:5.
Howell, M. and Ford P. (2001), The True History of the Elephant Man, London: Allison & Busby.
Huet, M. H. (1993), Monstrous Imagination, Cambridge, MA: Harvard UP.
Kember, J. (2005), David Lynch and the Mug Shot. Facework in The Elephant Man and The Straight Story, [in:] E. Sheen and A. Davidson (eds), The Cinema of David Lynch. New York and London: Wallflower Press.
Miller, W. I. (1997), The Anatomy of Disgust, Cambridge, Mass: Harvard UP.
Montagu, A. (1972), The Elephant Man. A Study in Human Dignity, London: Allison and Busby.
Rodley, C. (1997), Lynch on Lynch, London: Faber and Faber.
Shildrick, M. (2002), Embodying the Monster: Encounters with the Vulnerable Self, London: SAGE Publications.
Treves, F. (1923), The Elephant Man and Other Reminiscences, London: Cassell.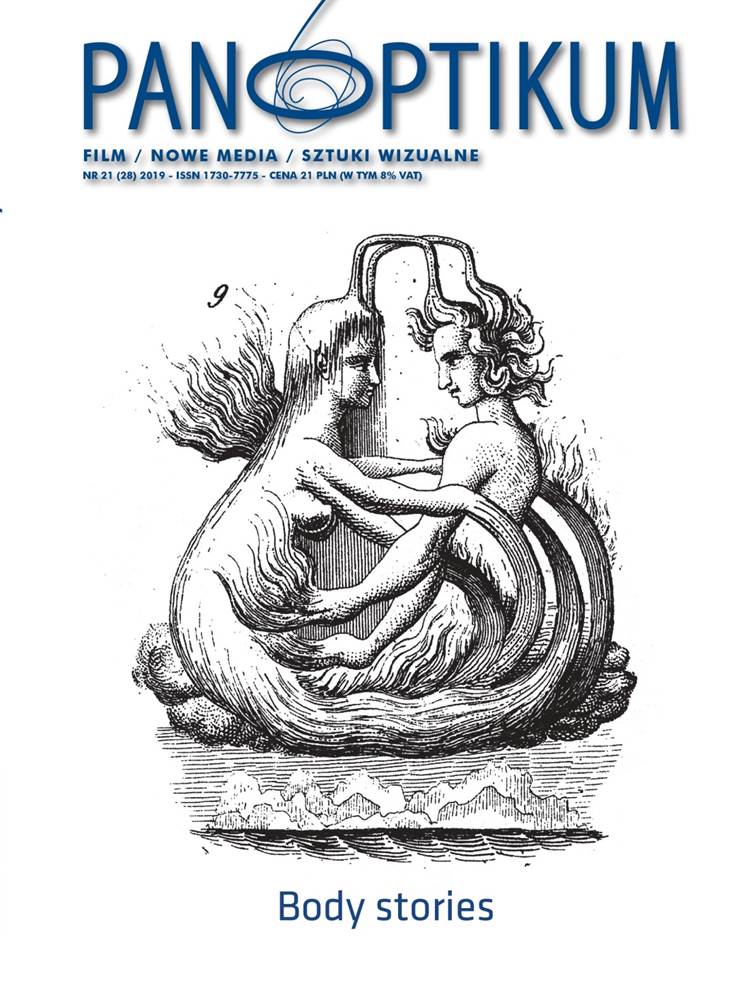 Pobrania
Jak cytować
Bugaj, M. (2019). "We understand each other, my friend". The freak show and Victorian medicine in "The Elephant Man". Panoptikum, (21), 81–94. https://doi.org/10.26881/pan.2019.21.05