Digital docu-games, czyli cyfrowe gry dokumentalne
Słowa kluczowe:
documentary film, digital games, computer games, hybridity
Abstrakt
In this paper, I would like to take a closer look at the hybrid genre of digi­tal documentary ("docu-game"), which is part of a larger group, the so-called "serious games". Documentary games are both game-specific (rules, levels, op­ponents, measurable progress, rewards, etc.), and are also strongly based on the facts, playing educational and activist roles. They can be available through browsers, similar to hypertext websites, but are often designed for stationary or mobile consoles. In terms of genres, a significant range can also be observed: platform games, like Never Alone (2014, E-Line Media), adventure games: Val­iant Hearts: the Great War (2014: Ubisoft) or 1979 Revolution (2014, N-Fusion), strategic games: This War of Mine (2014, 11bit studios), RPG (educational mode in Assassin's Creed: Origins [2017] and Assassin's Creed: Odyssey [2018]), or even survival horror: Kholat (2015, IMGN.PRO). The titles I describe present dif­ferent approach to factual sources: they add documentary footage as cutscenes (Never Alone), they build narration around real events and characters, and make the player's avatar a fictional character (1979 Revolution), they base the game mechanics on the logic of events in well-defined real circumstances (This War of Mine). Since the works based on a genre-specific hybrid strategy occupy an important place in today's audiovisual landscape, I think it would be worth fur­ther examining this "incompatible" area: a documentary, traditionally combined with truth and seriousness, and digital games, usually associated with fiction and entertainment.
Downloads
Download data is not yet available.
Bibliografia
Barsam, R.M., Monahan D. (2010). Looking at Movies: An Introduction to Film. New York: W.W. Norton and Company.
Caillois, R. (2001). Man, Play, and Games. Champaign: University of Illinois Press.
Chapman, A. (2016). Digital Games as History: How Videogames Represent the Past and Offer Access to Historical Practice. London: Routledge.
Chibber, K. (2014), The New 'Assassin's Creed' Game is Reviving an Ancient Debate over the French Revolution, https://qz.com/297219/the-new-assassins-creed-game-is-reviving -an-ancient-debate-over-the-french-revolution/ (dostęp: 8.06.2020).
Clyde, J., Hopkins, H., Wilkinson, G. (2012). Beyond the 'Historical' Simulation: Using Theories of History to Inform Scholarly Game Design, Loading…The Journal of the Canadian Game Studies Association, Vol. 6, No. 9.
Donovan, T. (2010). Replay: The History of Video Games. East Sussex: Yellow Ant.
Dovey, J., Kennedy, H.W. (2011). Kultura gier komputerowych (tłum. T. Macios, A. Oksiuta). Kraków: Wydawnictwo Uniwersytetu Jagiellońskiego.
Gaudenzi, S. (2013). The Living Documentary: from Representing Reality to Co-Creating Reality in Digital Interactive Documentary, https://research.gold.ac.uk/7997/1/Cultu¬ral_thesis_Gaudenzi.pdf (dostęp: 25.05.2020).
Houghton, R. (2018). World, Structure and Play: A Framework for Games as Historical Research Outputs, Tools, and Processes, Práticas da História, No. 7.
Huizinga, J. (2020). Homo ludens. Zabawa jako źródło kultury (tłum. M. Kurecka, W. Wirpsza). Warszawa: Aletheia.
Kubiński, P. (2016). Gry wideo. Zarys poetyki. Kraków: Universitas.
Lukomski, J. (2018). 'Accuracy' vs Inclusivity: Women in Historical Games, https://www. nymgamer.com/?p=17807 (dostęp: 09.06.2020).
McCall, J. (2012). Navigating the Problem Space: The Medium of Simulation Games in the Teaching of History, The History Teacher, No. 46 (1).
McCall, J. (2019). Playing with the Past: History and Video Games (and Why It Might Matter), https://jgeekstudies.org/2019/04/22/playing-with-the-past-history-and-video-ga¬mes-and-why-it-might-matter/ (dostęp: 08.06.2020).
McGonigal, J. (2011). Reality Is Broken: Why Games Make Us Better and How They Can Change the World. London: Penguin Books.
Neumann, J. von, Morgenstern, O. (1944). Theory of Games and Economic Behavior. Princeton: Princeton University Press.
Nichols, B. (2001). Introduction to Documentary. Bloomington: Indiana University Press.
Post, M. (2017) Film jako tekst multimodalny. Założenia i narzędzia jego analizy. Wro¬cław: Wydawnictwo Wyższej Szkoły Filologicznej we Wrocławiu.
Przylipiak, M. (2004). Poetyka kina dokumentalnego. Gdańsk: Wydawnictwo Uniwersy¬tetu Gdańskiego.
Raessens, J. (2006). Reality Play: Documentary Computer Games beyond Fact and Fiction, Popular Communications, No. 4 (3).
Renov, M. (1993). Toward a Poetics of Documentaries. W: Theorizing Documentary, M. Renov (Ed.). London: Routledge.
Salen, K., Zimmerman, E. (2003). Rules of Play. Game Design Fundamentals. Cambrid¬ge: The MIT Press.
Sørensen, I.E., Thorhauge, A.M. (2013). Documentary at Play. W: Online Credibility and Digital Ethos: Evaluating Computer-Mediated Communication, M. Folk, S. Apostel (Eds.). Pennsylvania: IGI Global.
Tkaczyk, P. (2012). Grywalizacja. Jak zastosować mechanizmy gier w działaniach marke¬tingowych. Gliwice: Onepress.
Varinlioglu, G., Aslankan, A., Alankus, G., Mura, G. (2017). Raising Awareness for Digital Heritage through Serious Game. W: Shock! Sharing of Computable Knowledge!, A. Fioravanti (Ed.), Vol. 2. Rome: eCAADe.
Witek P. (2016). Andrzej Wajda jako historyk. Metodologiczne studium z historii wizualnej. Lublin: Wydawnictwo UMCS.
Ludografia:
Revolution: Black Friday (2014, iNK Stories).
Seria Assassin's Creed (od 2007, Ubisoft).
Assassin's Creed: Odyssey (2018, Ubisoft).
Assassin's Creed: Origin (2017, Ubisoft).
Assassin's Creed: Unity (2014, Ubisoft).
Seria Battlefield (od 2002, Electronic Arts).
Bound (2016, Plastic Studios).
Seria Call of Duty (od 2003, Infinity Ward).
Seria Civilization (od 1991, Sid Meier i Firaxis Games).
Crusader Kings II (2012, Paradox Interactive).
Europa Universalis (2001, Paradox Interactive).
Fort McMoney (2013, National Film Board of Canada).
Lifesaver (2013, Unit9).
Network Effect (2015, Greg Hochmuth i Jonathan Harris).
Never Alone (2014, E-Line Media).
That Dragon Cancer (2016, Numinous Games).
This War of Mine (2014, 11 bit studios).
Wanderlust Travel Stories (2019, Different Tales).
We. The Revolution (2019, Polyslash).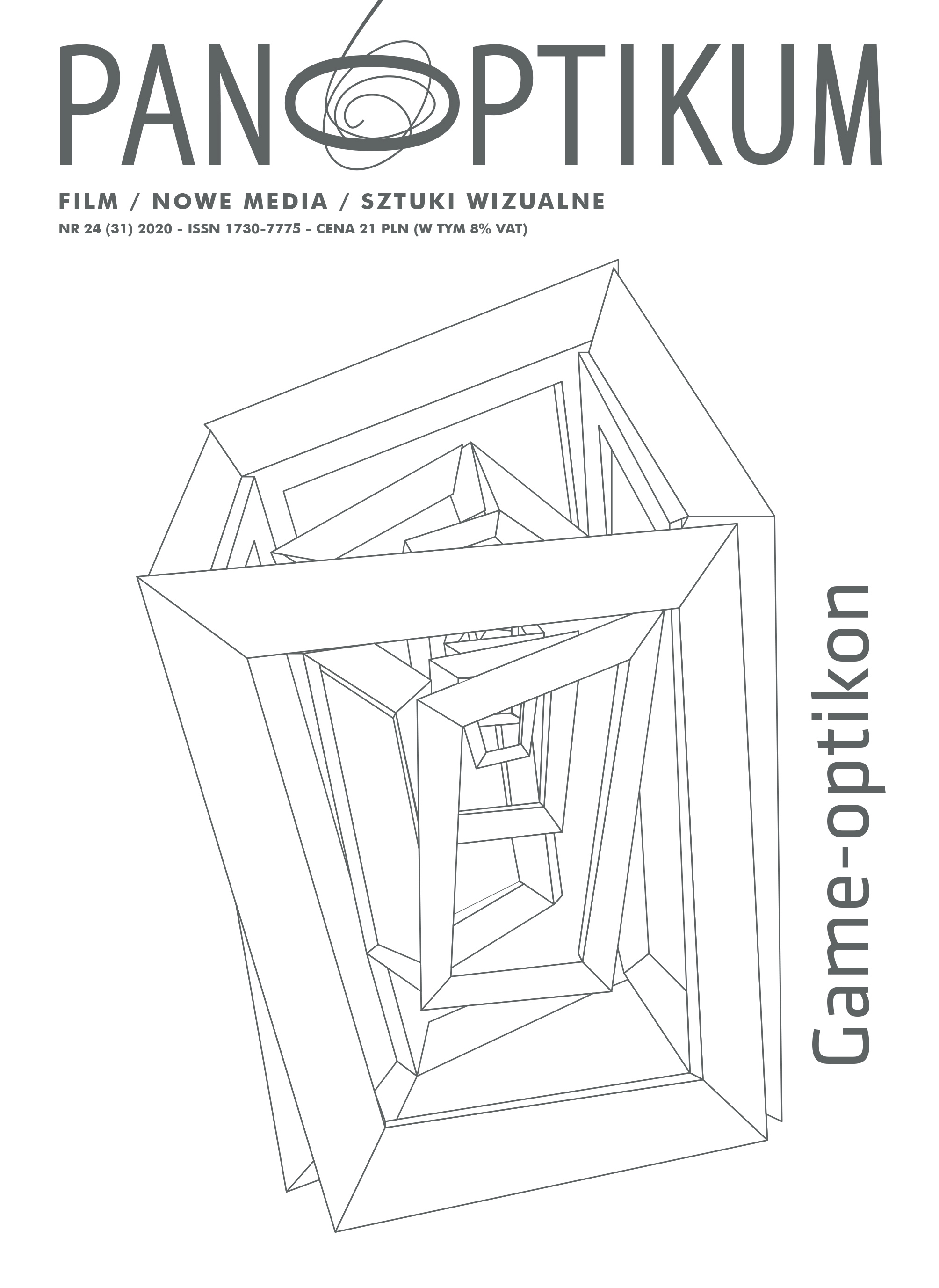 Pobrania
Jak cytować
Sołodki, P. (2020). Digital docu-games, czyli cyfrowe gry dokumentalne. Panoptikum, (24), 10–27. https://doi.org/10.26881/pan.2020.24.06