Educational Activities of the National Film Archive in Warsaw Connected with Pre-World War II Films
Słowa kluczowe:
film literacy, film education
Abstrakt
This article describes the educational actions (including the use of them in education) related to pre-war films conducted by the National Film Archive in Warsaw. First to exemplify this phenomenon, I focused on the works of three silent films: Mania. The history of a cigarette factory worker (Mania. Die Geschichte einer Zigarettenarbeiterin, 1918, directed by Eugen Illés), Pan Tadeusz ([Sir Thaddeus, 1928, directed by Ryszard Ordyński) and Zew morza ([The call of the sea], 1927, directed by Henryk Szaro), which have undergone a complete digital reconstruction during the Nitrofilm project (2008–2014) in the National Film Archive. The aim is to show how knowledge about silent film is communicated to the audience, and how these movies can be used to achieve educational goals/targets. The theoretical framework of this essay is examining the changing function of film archives, where technological change, the possibilities of restoration and digitization of films contributes to increasing popularisation of audiovisual heritage by film archivists and museums. An essential category in this essay is the authenticity both for the reconstructed film and its presentation. The perception of authenticity often determinates strategies for presentation of this heritage. The article is based on qualitative research (interviews with the audience and workers at the film archive;participant observation, press materials and websites).
Downloads
Download data is not yet available.
Bibliografia
Benjamin, W. (2008). The Work of Art in the Age of Its Technological Reproducibility, and Other Writings on Media. Cambridge, MA – London: Harvard University Press.
Umberto, E. (1973–1983). Semiologia quotidiana.
Gapps, S. (2002). Perfoming the Past: A Cultural History of Historical Reenactments. Sydney: University of Technology.
Kirshenblatt-Gimblett, B. (2004). From Ethnology to Heritage: The Role of the Museum. https://www.researchgate.net/publication/238714489_From_Ethnology_
to_Heritage_The_Role_of_ the_Museum (access: 14.09.2017).
Lévi-Strauss, C. (1972). Structural Anthropology. Transl. C. Jacobson. Harmondsworth: Penguin Books.
Moraczewski, K. (2012). Kultura, pamięć i muzyka, [in:] B. Jastrzębski et al. (eds.), Kultura: pamięć i zapomnienie. Księga poświęcona pamięci Profesora Piotra Kowalskiego. Wrocław: Wydawnictwo Uniwersytetu Wrocławskiego.
Nitrofilm.pl. http://www.nitrofilm.pl/.
Pantadeusz.tvp.pl.
Pieńkowski, M. (2016). "Pan Tadeusz" – making of, [in:] A. Fabianowski, E. Hoffmann-Piotrowska (eds.), Pan Tadeusz. Poemat – Postacie – Recepcja. Warszawa: Wydawnictwa Uniwersytetu Warszawskiego.
Selwyn, T. (1996). The Tourist Image: Myths and Myth Making in Tourism. Chichester: Willey&Sons.
Sujecki, J. (2005). Muzeum: świątynia nudy czy źródło inspiracji?, [in:] A. Szpociński (ed.), Wobec przeszłości. Pamięć przeszłości jako element kultury współczesnej. Warszawa: Instytut im. Adama Mickiewicza.
Szlendak, T. (2010). "Wielozmysłowa kultura iwentu." Kultura współczesna, no. 4 (66).
Wieczorkiewicz, A. (2008). Apetyt turysty: o doświadczeniu świata w podróży. Kraków: Universitas.
Interviews conducted by the author with staff members from the National Film Archive members and pre-World War II film viewers in 2013–2015:
Interview no. 1 (2013), 11 December.
Interview no. 3 (2013), 13 December.
Interview no. 29 (2014), 23 October.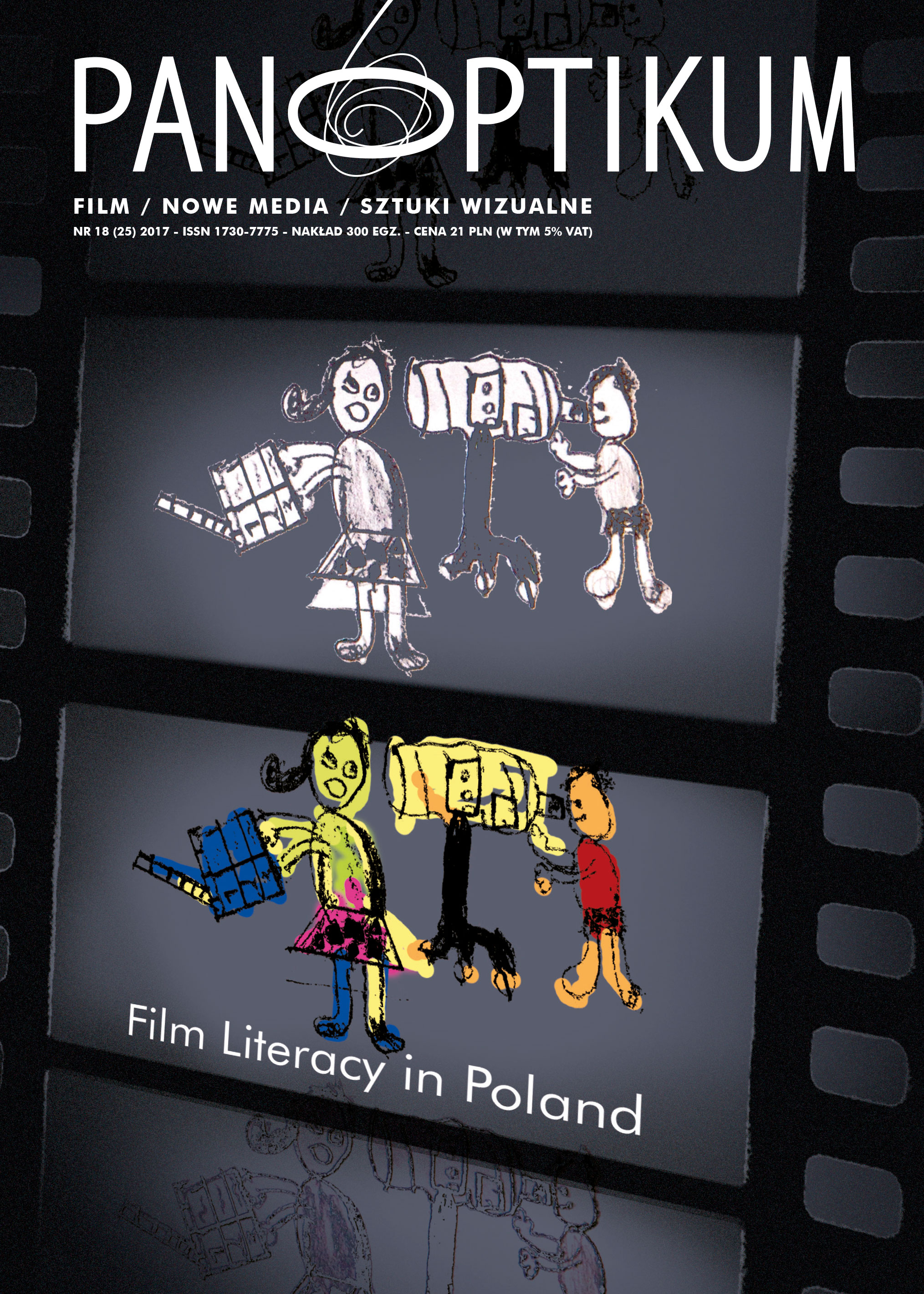 Pobrania
Jak cytować
Turczyn, K. (2017). Educational Activities of the National Film Archive in Warsaw Connected with Pre-World War II Films. Panoptikum, (18), 178–190. https://doi.org/10.26881/pan.2017.18.11