Educational Offer at Polish Film Festivals Directed at Film Industry Representatives
Abstrakt
The article considers industry workshops organised during film festivals and festivals dedicated to the film profession in Poland. It puts forward the fact that during film festivals not only screenings, contact between a filmmaker and a viewer are important, but also workshops and industry meetings dedicated to artists. This kind of education seems to be needed because after graduating from film school it is a possibility to develop one's own skills and to update knowledge about the profession. The author also concentrates on Polish film festivals fully dedicated to the film profession, such as Camerimage International Film Festival in Bydgoszcz, Script Fiesta in Warsaw, Regiofun Film Festival in Katowice, Kamera Akcja Festival and Transatlantyk Film Festival both in Lodz. Even though there are not so many film festivals dedicated to one film profession, they are important because of their educational value for filmmakers and for audience.
Downloads
Download data is not yet available.
Bibliografia
Camerimage.pl. http://www.camerimage.pl/pl/nagroda-dla-montazysty.html (access: 24.04.2017).
Kameraakcja.pl. http://kameraakcja.com.pl/o-festiwalu/ (access: 26.04.2017).
Kiciński A., Radomski M. (2017). "Scenariuszowe świętowanie." Magazyn Filmowy, no. 5/2017.
Kołodziej, J. (2012). "20 lat minęło… Rozmowa z Markiem Żydowiczem, Prezesem Fundacji Tumult i Dyrektorem Plus Camerimage – Festiwalu Sztuk Autorów Zdjęć Filmowych w Bydgoszczy." Telepro, no. 11/2012.
Kołodziej, J. (2017). "Jubileuszowo i pracowicie." Kino, no. 4/2017.
Nowehoryzonty.pl https://www.nowehoryzonty.pl/artykul.do?id=2352 (access: 17.08.2017).
Offcamera.pl. http://www.offcamera.pl/branza/info/ (access: 21.04.2017).
Pabiś-Orzeszyna, M. (2015). "Conflict Management: The Camerimage Festival and the Dialectics of Prestige." Iluminace, vol. 27, issue 3.
Pisf.pl (2017). 7 March. https://www.pisf.pl/aktualnosci/zgloszenia/script-fiesta-finaliscikonkursu- na-serial-oraz-katalog-scenarzystow (access: 24.04.2017).
Regiofun.pl. http://regiofun.pl/look-for-fund (access: 25.04.2017). http://regiofun.pl/o-festiwalu (access: 25.04.2017).
Romanowska, D. (2017). "Off Camera Pro Industry." Magazyn Filmowy, no. 6/2017.
Transatlantyk.org. http://transatlantyk.org/pl/pages/jan-a-p-kaczmarek (access: 27.04.2017).
Wff.pl. http://wff.pl/pl/filmmakers/workshops-for-young-filmmakers (access: 21.04.2017).
Zajiček, E. (1997). Praca i film. Problemy ekonomiki pracy w produkcji filmowej. Łódź: PWSFTviT.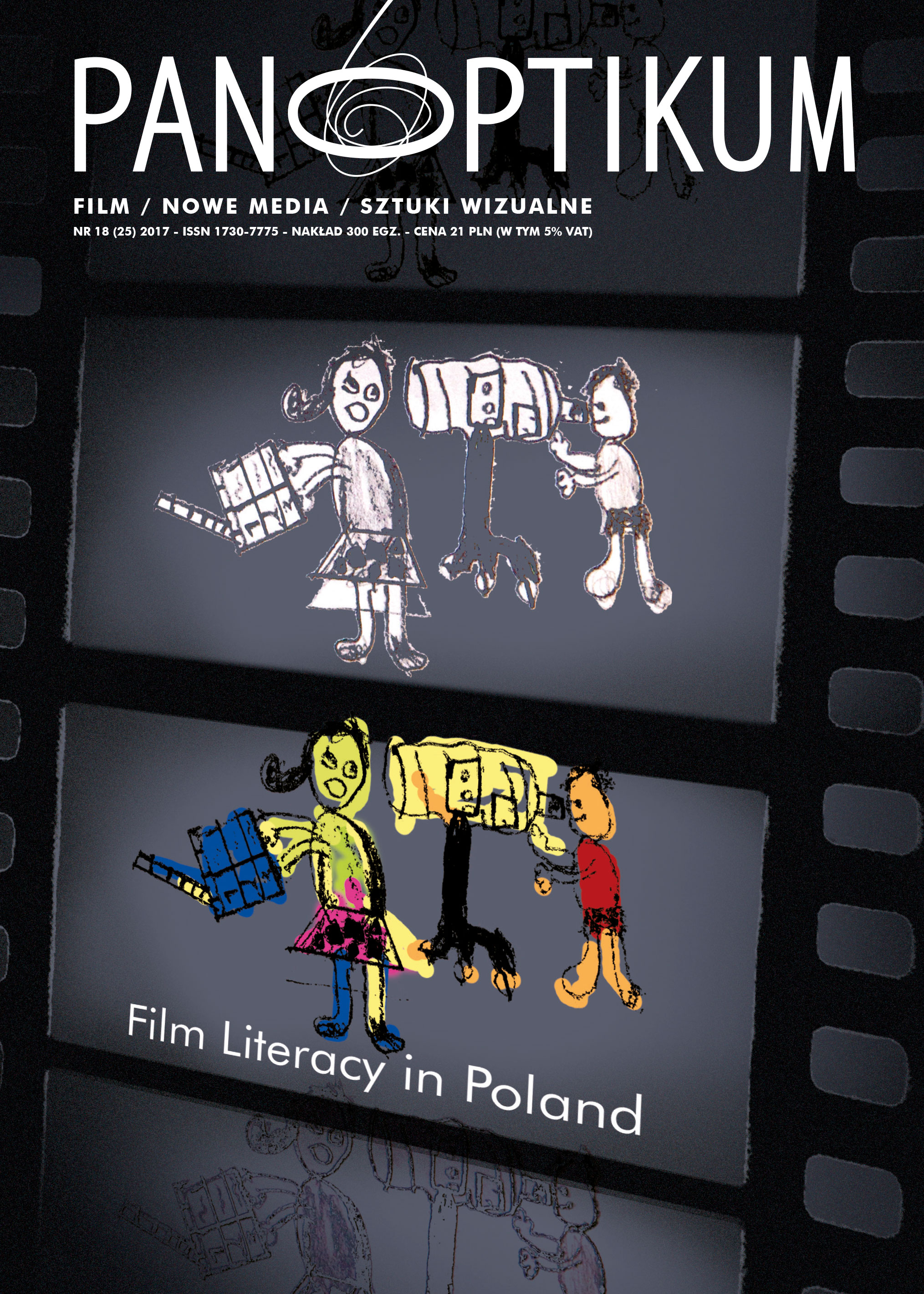 Pobrania
Jak cytować
Lisiecka-Muniak, M. (2017). Educational Offer at Polish Film Festivals Directed at Film Industry Representatives. Panoptikum, (18), 216–226. https://doi.org/10.26881/pan.2017.18.13