Jean-Jacques Rousseau and his ideas in the spectrum of the pressing challenges of our time: to the postulates of modern psychological and pedagogical interaction
Słowa kluczowe:
philospohizing, theorizing, explanatory model of social world, social function, personal sovereignty, a meaningful synthesis of teh historical facts, the freedom of choice - as elements of the philosophy of Jean-Jacques Rousseau, postulates of modern psychological and educational interaction
Abstrakt
The personality and creativity of Jean-Jacques Rousseau are multifaceted, sometimes difficult to structure and observe in modern humanistic theorizations, although the idea of a special social function of personal sovereignty and the idea of history as a meaningful synthesis of historical facts have not lost their relevance today, if we find the necessary range of review and ways of implementation. Another example – the idea of education as a system, which should be the very nature – the nature of the pupil, the "nature-loving" educator, and the natural educational process itself. If we consider the idea of following the natural pupil so as to create conditions for detection, disclosure, and facilitating the full deployment of the individual capacities of the pupil, this idea is at least highly relevant. This is an aspect of the modern psychological, pedagogical, and even – political – mainstream, the focus of what is most concerned about contemporary human society and its various institutions. If we consider that the idea of naturalness facilitates the educational process as a way of bringing it closer to some "maieutic" ideal – it is also one of the centrifugal issues of modern pedagogy and educational affairs in general, the question – how to make the process – non-violent, opening prospects, and not prevent them from forming the ability to independently explore the world and find ways of acting effectively in it. If we treat the idea of the "nature-loving" educator as subtly and carefully acting in relation to any of the manifestations of the pupil, thereby unleashing the potential of the tutor, is not this the way to pre-empt all types of "burn up" (both professional, and emotional) for the modern educator in the broad sense of the word – "sculptor of human souls"? In this article with the elements of an essay – the proposal is to make a fascinating excursion, full of unexpected discoveries into the world of Rousseau.
Downloads
Download data is not yet available.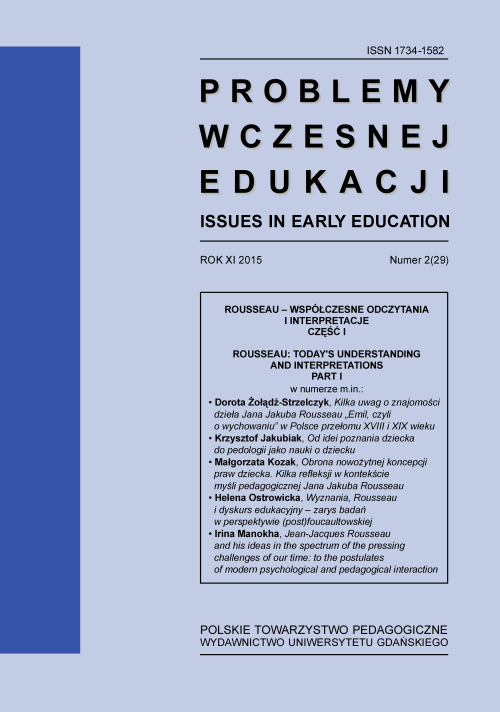 Pobrania
Jak cytować
Manokha, I. (2015). Jean-Jacques Rousseau and his ideas in the spectrum of the pressing challenges of our time: to the postulates of modern psychological and pedagogical interaction. Problemy Wczesnej Edukacji, 29(2), 44–52. https://doi.org/10.5604/01.3001.0008.5660
Dział
Rozprawy i artykuły