Mediacja w sporach dotyczących dóbr kultury – pro et contra
Słowa kluczowe:
dziedzictwo kultury, klauzula mediacyjna, mediacja, konwencja singapurska
Abstrakt
Powszechnie wiadomo, że z mediacji jako alternatywnej metody rozwiązywania sporów korzysta się w wielu rodzajach spraw, od gospodarczych po rodzinne, dzięki czemu można uniknąć utrudnień procesowych, przewlekłości i kosztów typowych dla spraw rozpoznawanych przez sądy. Metoda ta, przydatna w skomplikowanych i zarazem delikatnych sprawach, zyskuje zwolenników również wśród praktyków prawa ochrony dziedzictwa kultury. Jeżeli strony dążą do ugody zachowującej poufność, specyfika roszczeń dotyczących dziedzictwa kultury może osłabić, ale też może wzmocnić dobrodziejstwa płynące z mediacji. W niniejszym artykule przeanalizowano związki instytucji mediacji z dziedziną prawa ochronny dóbr kultury, ze szczególnym uwzględnieniem uregulowań niedawno przyjętej konwencji singapurskiej. Autorka rekomenduje poprawki w brzmieniu klauzul o mediacji jako warunek poprzedzający wszczęcie właściwego postępowania oraz omawia kwestie związane z wykonaniem i skutkami ugód.
Downloads
Download data is not yet available.
Bibliografia
ADR Art & Cultural Heritage Statistics 2018 (01.01.2018–31.12.2018), Camera di Commercio Milano, https://www.camera-arbitrale.it/upload/documenti/statistiche/adr-art-facts-figures-2018.pdf (accessed: 1.02.2021).
Alexander N., Chong S., The Singapore Convention on Mediation: A Commentary, Global Trends in Dispute Resolution, vol. 8, Kluwer Law International 2019.
Barker I., "Thoughts on an International ADR Regime for Repatriation of Cultural Property" [in:] Art and Cultural Heritage: Law, Policy and Practice, ed. B. Hoffman, Cambridge University Press, New York 2006.
Blackaby N., Partasides C., Redfern A., Martin J., Hunter H., "An Overview of International Arbitration" [in:] Redfern and Hunter on International Arbitration, 6th ed., Oxford University Press, Oxford 2015.
Chechi A., The Settlement of International Cultural Heritage Disputes, Oxford University Press, Oxford 2014.
Hoffman B. (ed.), Art and Cultural Heritage: Law, Policy and Practice, Cambridge University Press, New York 2006.
Mealy N. "Mediation's Potential Role in International Cultural Property Disputes", Ohio State Journal on Dispute Resolution 2011, vol. 26, issue 1.
Pitkowitz N., Fremuth-Wolf A., Radschek A.K., "The Vienna Innovation Propositions: Venturing into New Fields and New Ways of Arbitration – Revisiting Traditional Ways of Arbitration" [in:] Austrian Yearbook on International Arbitration, eds. Ch. Klausegger, P. Klein, F. Kremslehner, A. Petsche, N. Pitkowitz, I. Welser, G. Zeiler, Vien 2019.
Plant D., Course on Dispute Settlement in International Trade, Investment and Intellectual Property (prepared on behalf of UNCTAD), United Nations Conference on Trade and Development: Dispute Settlement, 2003.
Roodt C., Private International Law, Art and Cultural Heritage, Edward Elgar Publishing Limited (Kobo Edition), Cheltenham, UK – Northampton, MA 2015.
Schneider M., "UNIDROIT Convention on Stolen or Illegally Exported Cultural Objects: Explana- tory Report" (prepared by M. Schneider on behalf of UNIDROIT Secretariat), Uniform Law Review 2001, vol. 6, issue 3.
Shehade M., Fouseki K., Walker Tubb K., "Editorial: Alternative Dispute Resolution in Cultural Property Disputes: Merging Theory and Practice", International Journal of Cultural Property 2016, vol. 23, issue 4.
Theurich S., "Art and Cultural Heritage Dispute Resolution", WIPO Magazine, July 2009.
Trioschi A., "Art-Related Disputes and ADR Methods: A Good Fit?", Kluwer Arbitration Blog, 8.07.2018, http://arbitrationblog.kluwerarbitration.com/2018/07/08/adr-art-cultural-heritage/ (accessed: 12.03.2021).
Wichard C., Wendland W.B., "Mediation as an Option for Resolving Disputes Concerning Traditional Knowledge" [in:] Art and Cultural Heritage: Law, Policy and Practice, ed. B. Hoffman, Cambridge University Press, New York 2006.
Woodhouse J., Pepin S., House of Commons Library Briefing, Paper No. 02075, 9 June 2017.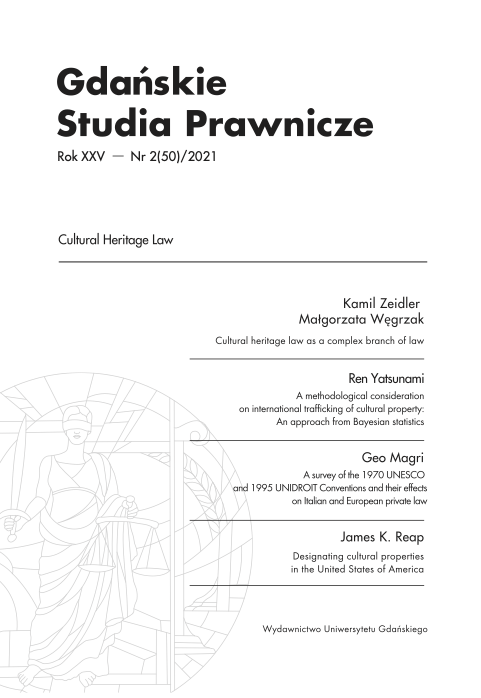 Pobrania
Jak cytować
Arsic, M. . (2021). Mediacja w sporach dotyczących dóbr kultury – pro et contra. Gdańskie Studia Prawnicze, (2(50)/2021), 134–147. https://doi.org/10.26881/gsp.2021.2.09