Film Canon – Film History – Film Education: Remarks on the Polish Film Museum's Anniversary Poll
Słowa kluczowe:
film literacy, film education, film canon, film history
Abstrakt
In 2015, the Film Museum in Lodz, Department of History and Theory of Film at the University of Lodz and the Polish Filmmakers Association worked together on a project "12 films for 120 years of cinema". Filmmakers and people professionally involved in film culture were asked to compile their 12 best films ever and their 12 best Polish films. The organisers received 279 responses which mentioned 1,348 films in total. After analysing the results, the lists of best movies were published as well as variant lists according to the respondents' profession and age. The first part of the paper raises questions regarding aesthetic axiology (as far as culture-based text hierarchies are concerned) and social communication (which concerns the question of a canon: who establishes it and for what purpose?). In the second part of the article, the authors discuss the results of the poll, highlighting shortcomings of the project when compared to similar polls in the past.
Downloads
Download data is not yet available.
Bibliografia
Bardèche, M., Brasillach, R. (1935). Histoire du cinema. Paris: Denoël et Steele.
Bloom, H. (1994). The Western Canon: The Books and School of the Ages. New York: Harcourt Brace.
Corliss, R. (2011). "That Old Feeling: Secrets of the All-Time 100." Time, no. 43.
Garbicz, A. (1981). Kino wehikuł magiczny: przewodnik osiągnięć filmu fabularnego. Podróż czwarta 1967–1973. Kraków: Wydawnictwo Literackie.
Gazda, J. (1996). "Powrót do źródeł. Uwagi o ankiecie." Kwartalnik Filmowy, no. 12–13.
Lewandowski, J., Słodowski J. (1994). 100 filmów, które powinniście obejrzeć, jeśli będziecie mieć okazję. Katowice: Videograf.
Lundin, R. (1998). The "Classics" are not the "Canon", [in:] L. Cowan, O. Guiness (eds.), Invitation to the Classics. Grand Rapids: Baker Books.
Pietrasik, Z. (1999). "Śmiech w ciemnościach." Polityka, no. 2199.
Rosenbaum, J. (2014). Essential Cinema: On the Necessity of Film Canons. Baltimore and London: John Hopkins University.
Sadoul, G. (1946–1975). Histoire générale du cinéma. Paris: Denoël.
Schrader, P. (2006). "Canon Fodder: As the sun finally sets on the century of cinema, by what criteria do we determine its masterworks?" Film Comment, no. 5.
Szaniawski, J. (2005). Modernism/Postmodernism/Transmodernism: New Adventures in Cinematic Canon Building, [in:] C. Den Tandt (ed.), Reading without Maps?: Cultural Landmarks in a Postcanonical Age. Frankfurt am Main: Peter Lang Publishing.
Netography (all sites were accessed on 10.02.2017):
http://decentfilms.com/articles/vaticanfilmlist
http://www.afi.com/100years/movies.aspx
http://www.bfi.org.uk/news/50-greatest-films-all-time
http://www.filmsite.org/sightsound.html
https://www.timeout.com/london/film/100-best-british-films
http://www.thegreatestfilms.com
http://www.thegreatestfilms.com/List/British-Film-Institute/Top-100-British-films
http://www.filmsite.org/greatlists2.html
http://entertainment.time.com/2005/02/12/all-time-100-movies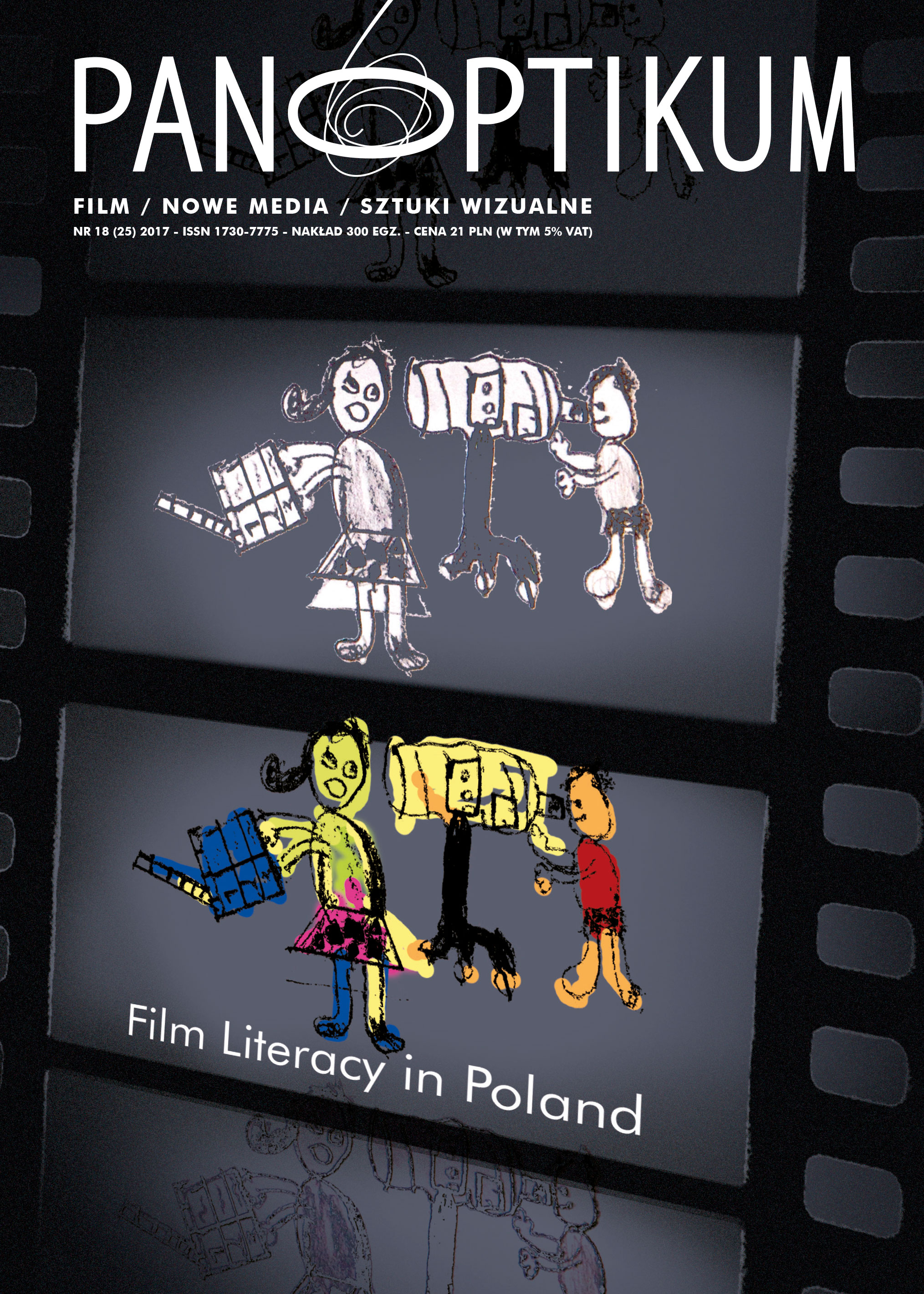 Pobrania
Jak cytować
Klejsa, K., & Jajko, K. (2017). Film Canon – Film History – Film Education: Remarks on the Polish Film Museum's Anniversary Poll. Panoptikum, (18), 191–214. https://doi.org/10.26881/pan.2017.18.12