"Ucieleśnienie" traumy w powieści historycznej Hägring 38 Kjella Westö
Agata Teperek

Stockholms universitet
Słowa kluczowe:
trauma, pamięć ciała, Kjell Westö, Hägring 38, ciało kobiece
Abstrakt
Applying close-reading the transdisciplinary article investigates the way in which trauma experienced by women during the Finnish civil war (1918) is presented in Kjell Westö's novel Mirage 38. Focusing on the female body and working with the term "body memory", it discusses symbolical literary representations of traumatic memories, which cannot be described verbally and are often hided from the other members of the community, as well as their destructive impact on the psyche and social relations of the traumatised person – in this case the main character of the novel Milja Matilda Wiik. The human body is perceived here as a place of embodiment of suppressed memories. Consequently, the body can be also seen as a medium of memory.
Bibliografia
Alexander, J.C. (2012). Trauma: A Social Theory. Malden: Polity.
Arendt, H. (1996). Den banala ondskan: Eichmann i Jerusalem. Göborg: Daidalos.
Assmann, A. (2003). Erinnerungsräume. Formen und Wandlungen des kulturellen Gedächtnisses. München: C.H. Beck.
Assmann, A. (2016). Minne som nyckerlbegrepp inom kulturvetenskaperna. W: J. Redin, H. Ruin (red.). Mellan minne och glömska. Studier i det kulturella minnets förvandling. Göteborg: Daidalos, s. 121–145.
Boëthius, M.-P. (1990). Patriarkatets våldsamma sammanbrott & Varför våldtäkt finns. Nørhavn: Bonnier.
Bojarska, K. (2014). Trauma. W: M. Saryusz-Wolska i R. Traba (red.). Modi memorandi. Leksykon kultury. Warszawa: Scholar, s. 501–506.
Brownmiller, S. (1977). Våldtäkt. Stckholm: Norstedt.
Erll, A. (2011). Memory in Culture. Houndmills–Basingstoke–Hampshire: Palgrave Macmillan.
Freedman, J. (2003). Sexualitet och makt. W: J. Freedman. Feminism – en introduktion. Lund: Liber, s. 89–111.
Freud, S. (2013). Jenseits des Lustprinzips. Stuttgart: Reclam.
Hentilä, S. (1995). Der große Bruder wacht nicht mehr. W: H. Fromm i M.–L. Nevala (red.). Jahrbuch für finnisch-deutsche Literaturbeziehungen, nr 27. Helinki: Deutsche Bibliothek Helsinki, s. 72–73.
Hirsch, M i L. Spitzer. (2016). Vittnet i arkivet: Förintelsestudier / Minnesstudier. W: J. Redin, H. Ruin (red.). Mellan minne och glömska. Studier i det kulturella minnets förvandling. Göteborg: Daidalos, s. 235–262.
Ihonen, M. (1999). Historiallinen romaani. W: P. Lassila (red.). Rintamakirjeistä tietoverkkoihin. Suomen kirjallisuushistoria, t. 3. Helsinki: SKS, s. 126–132.
Karwowska, B. (2009). Ciało. Seksualność. Obozy zagłady. Kraków: Universitas.
Korsström, T. (2013). Nostalgisk kioskvältare. Kjell Westö. W: T. Korsström. Från Lexå till Glitterscenen. Finlandssvenska tidsbilder, läsningar, författarporträtt 1960–2013. Helsingfors: Schildts&Söderströms), s. 436–447.
Öhlschläger, C. (2005). Gender/Körper, Gedächtnis und Literatur. W: A. Erll i A. Nünning (red.). Gedächtniskonzepte der Literaturwissenschaft. Theoretische Grundlegung und Anwendungsperspektiven. Berlin: De Gruyter, s. 227–248.
Melkas, K. (2007). A Struggle for Knowlegde: The Historical Novel and the Production of Knowledge. W: P. Lappalainen i R. Rajola (red.). Women's Voices. Female Authos and Feminist Criticism in the Finnish Literary Tradition. Helsinki: SKS 2007, s. 53–69.
Nietzsche, F. (1960). Zur Genealogie der Moral. W: F. Nietzsche. Werke, t. 3. Münhen: Hanser.
Nordisk samarbete. (2014). Kjell Westö fick Nordiska rådets litteraturpris 2014 för 'Hägring 38'. Nordisk samarbete, 29 października 2014, http://www.norden.org/sv/aktuellt/nyheter/kjell-westoe-fick-nordiska-raadets-litteraturpris-2014-foer-201chaegring-38201d (dostęp: 18.02.2017).
Puerta, A.C. (2010). Ciało (nie)widzialne: spektakl wykluczenia w Przy torze kolejowym Zofii Nałkowskiej. Teksty drugie 6 (126): 137–153.
Schmid, M. (2012). Marcel Proust: A modernist novel of time. W: M. Bell (red.). The Cambridge Companion to European Novelists. Cambridge: Cambridge University Press, s. 327–342.
Westö, K. (1986). Tango orange. Helsingfors: Söderströms Förlags Ab.
Westö, K. (1996). Drakarna över Helsingfors. Helsingfors: Söderströms Förlags Ab.
Westö, K. (2004 [2002]). Lang. Tłum. T. Szczepański. Gdańsk: Słowo/obraz terytoria.
Westö, K. (2006). Där vi en gång gått. Helsinki: Otava Publishing Company Ltd.
Westö, K. (2009). Har aldrig hittat hem. W: S. Hiidenheimo, F. Lång, T. Ritamäki i A. Rorkirch (red.). De andra. En bok om klass. Helsingfors: Söderström, s. 231–251.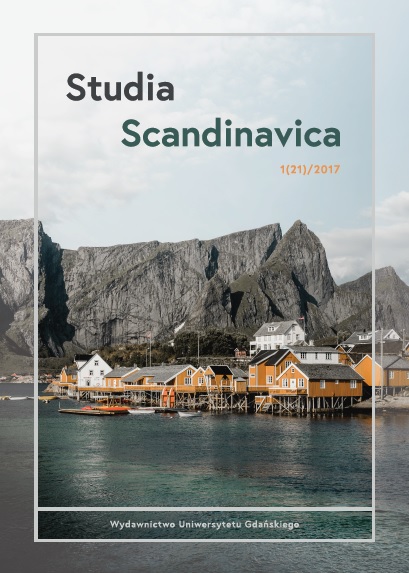 Jak cytować
Teperek, A. (2017). "Ucieleśnienie" traumy w powieści historycznej Hägring 38 Kjella Westö. Studia Scandinavica, (1 (21), 64-78. https://doi.org/10.26881/ss.2017.21.05