"Peer Gynt" – en pikaresk tekst?
Motivanalytiske streiftog gjennom en noksagts livsførsel
Knut Brynhildsvoll

Universitetet i Oslo
Abstrakt
The term picaresque is usually limited to narrative forms of expression, prose fiction and novels. New research has, however, shown that the designation is far more heterogeneous and includes certain kinds of poetry, comedy, and opera libretti. If the picaresque genre is defined in terms of common contents, topics and motifs, it comprises the drama and the theatre as well. It is significant that Lazarillo de Tormes (1554), the first picaresque novel in Spain, already contains dramatic scenes and passages of dialogue. This extended and hybrid genre understanding of picaresque narrative legitimizes this essay's approach, focusing on individual, thematic and formal elements which link the plot of Peer Gynt to the main features of picaresque literature.
Bibliografia
Aarseth, A. (2010). The Gyntian self. I: Kwok-kan Tam, T. Siu-han Yip og F. Helland (red.). Ibsen and the Modern Self. Hong Kong: Open University of Hong Kong Press, ss. 17–30.
Abrams, M.H. (1971). The Mirror and the Lamp: Romantic Theory and the Critical Tradition. Oxford: Oxford University Press.
Allers, R. (1939). The Psychology of Character. London: Sheed & Ward.
Alewyn, R. (1969 [1963]). Der Roman des Barock. WDF Darmstadt.
Brynhildsvoll, K. (2006). Ikonisk resiprositet. Repetisjonens rolle i samspillet mellom 1./2. Og 4. akt av Peer Gynt. I: S. Gimnes og S. Paulson (red.) – ut i det ukjente. Festskrift til Erik Østerud. Trondheim: Tapir, ss. 11–19.
Brynhildsvoll, K. (2008). Sigurd Mathiesen. Norges bortglemte laurbærblad. En studie i Unge sjæle som døråpner til modernismen i norsk litteratur. Oslo: Aschehoug.
Brynhildsvoll, K. (2009). Peer Gynt's Boundary Crossings: The Global Map of His Empirical and Mental Journeys. Forum for World Literature Studies 2 (1): 1–6.
Brynhildsvoll, K. (2010). The concept of 'I' in Henrik Ibsen's Peer Gynt. Viewed in the light of new neuropsychological research and with a special regard to Robert Musil's Theory of Potentiality. I: Kwok-kan Tam, T. Siu-han Yip og F. Helland (red.). Ibsen and the Modern Self.
Hong Kong: Open University of Hong Kong Press, ss. 31–47.
Chandler, F.W. (1969 [1907]). Definition der Gattung. WDF Darmstadt.
Daemmerich, H.S. og I.G. Daemmerich. (1995). Themen und Motive in der Literatur, 2. opplag. Tübingen og Basel: UTB.
Diebold, B. (1928). Anarchie im Drama. Kritik und Darstellung der modernen Dramatik, 4. utvidede utgave. Berlin: H. Keller.
Dieckmann, F. (1967). Felix Krulls Verklärung. Sinn und Form 19, heft 4: 894–934.
Franke, H. (1992). Die chinesische Literatur. I: Kindlers neues Literaturlexikon. München: Kindler.
Grimmelshausen, H.J.Chr. von (1984 [1669]). Continuatio des abentheuerlichen Simplicissimi oder der Schluss desselben durch German Schleifheim von Sulsfort. Mempelgare.
Guillén, C. (1971). Literature as System. Essays toward the Theory of Literary History. Princeton: Princeton University Press.
Hall, D. og R.T. Ames. (2009). Chinese Philosophy. I: Routledge Encyclopedia of Philosophy. London: Routledge.
Hermans, H.J.M. og G. Dimaggio (2004). The Dialogical Self in Psychoteraphy. New York–London: Routledge.
Ibsen, H. (1906). Samlede Værker. Mindeudgave. Kristiania og København: Gyldendalske Boghandel.
Jolles, A. (1969 ([1931]) Die literarischen Travestien. Ritter – Hirt – Schelm. WDF Darmstadt.
Kayser, W. (1955). Entstehung und Krise des modernen Romans. Stuttgart: Metzler.
Kierkegaard, S. (1962 [1901–1906]). Om Begrebet Ironi med stadigt Hensyn til Socrates. Samlede Værker. B. 1. København: Gyldendal.
Kierkegaard, S. (1963 [1901–1906]). Gjentagelsen. København: Hans Rietzel.
Mann, T. (1967 [1954]). Bekenntnisse des Hochstaplers Felix Krull. Frankfurt am Main: S. Fischer Verlag.
Meeker, J.W. (1974). The Comedy of Survival. Studies in literary Ecology. New York: Scribner.
Miller, S. (1967). The Picaresque Novel. Cleveland: Press of Case Western Reserve University.
Monteser, F. (1975). The Picaresque Element in Western Literature. Drawer: University of Alabama Press.
Muir, E. (1928). The Structure of the Novel. London: Hesperides Press.
Parker, A. (1969 [1947]). Zur Psychologie des Pikaro in El Buscón. WDF Darmstadt.
Ridderstrøm, H. (2012). Pikareskromanen. nettleksikon, http://edu.hioa.no/helgerid/litteraturogmedieleksikon/pikareskroman.pdf [tilgang: 15.05.2018].
Rosenthal, R. (1983). Die Erben des Lazarillo. Identitätsfrage und Schlusslösung im pikarischen Roman. Frankfurt am Main: Peter Lang.
Rötzer, H.G. (2009). Der europäische Schelmenroman. Stuttgart: Reclam.
Salinas, P. (1946 [1969]). Der literarische 'Held' und der spanische Schelmenroman. Bedeutungswandel und Literaturgeschichte. WDF Darmstadt.
Skard, S. (red.). (1992). Vesle Lasarus fra Tormes. Oslo: Samlaget.
Sletsjøe, A. (1997). Noen betraktninger rundt pikaresken som historisk fenomen. Romansk forum 6: 87–113.
Stanzel, F. (1964) Typische Formen des Romans. Göttingen: Vandenhoeck & Ruprecht.
Stanzel, F. (1979). Theorie des Erzählens. Göttingen: Vandenhoeck & Ruprecht.
Tarr, F.C. (1969 [1927]). Die thematische und künstlerische Geschlossenheit des Lazarillo de Tormes. WDF Darmstadt.
Tunturi, A.-R. (2005). Der pikareske Roman als Katalysator in geschichtlichen Abläufen. Erzählerische Kommunikationsmodelle in 'Das leben des Lazarillo von Tormes', bei Thomas Mann und in einigen finnischen Romanen. Jyväskylä studies in humanities 41.
Welzig, W. (1969 [1963]). Der Wandel des Abenteurertums. WDF Darmstadt.
Wicks, U. (1989) Picaresque Narrative, Picaresque Fictions. A Theory and Research Guide. New York: Greenwood.
Ziporyn., B. (2003). The Penumbra Unbound. The Neo-Taoist Philosophy of Guo Xiang. New York: State University of New York Press.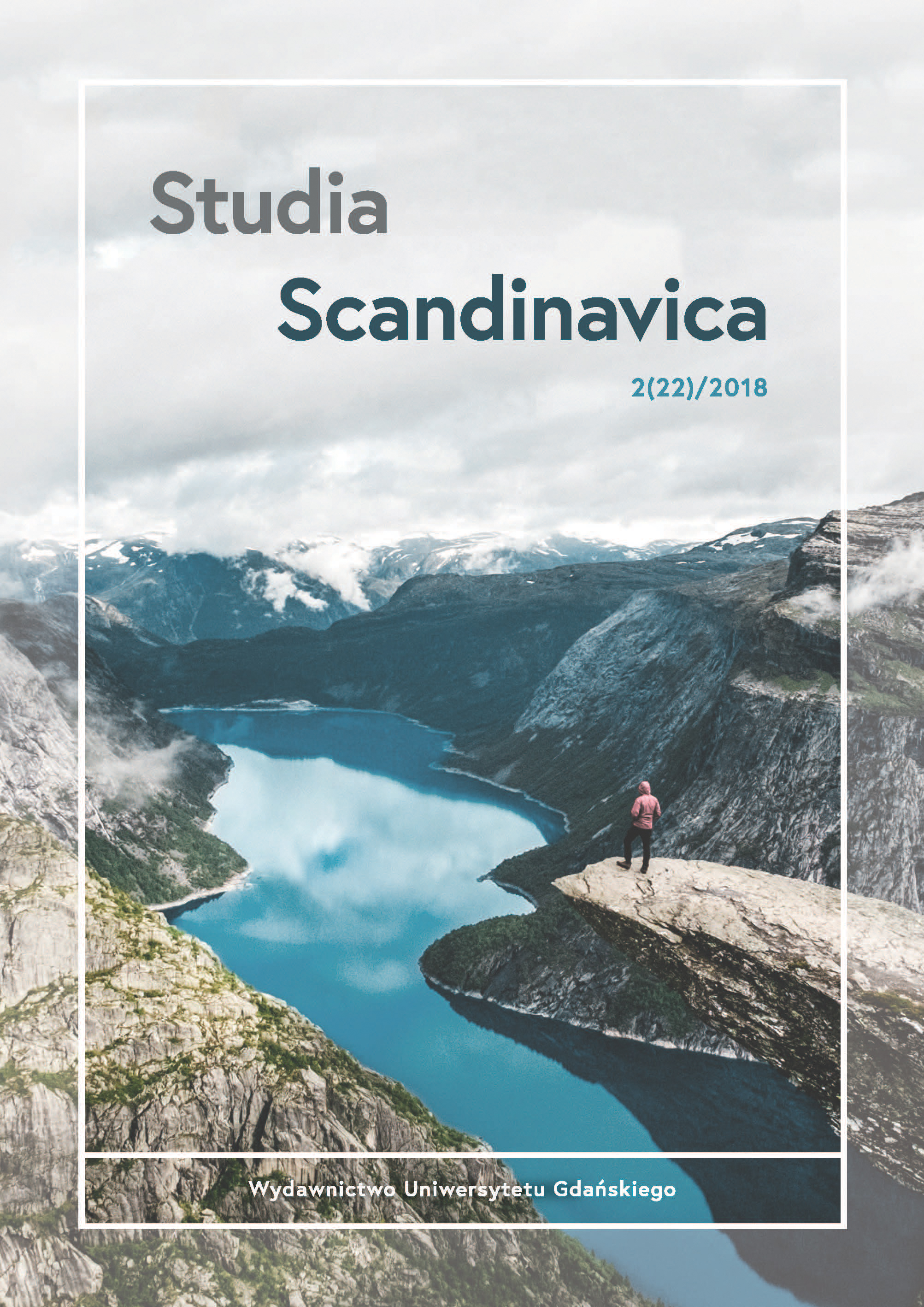 Jak cytować
Brynhildsvoll, K. (2018). "Peer Gynt" – en pikaresk tekst? Motivanalytiske streiftog gjennom en noksagts livsførsel. Studia Scandinavica, (2 (22), 78-101. https://doi.org/10.26881/ss.2018.22.05