The Notion of Mainstream Film in Contemporary Cinema
Mirosław Przylipiak

Uniwersytet Gdański
Słowa kluczowe:
mainstream film and cinema, blockbuster, contemporary American cinema
Abstrakt
The goal of this paper is to establish how the term "a mainstream film" is used and understood, what meaning is assigned to it in contemporary discourse about cinema. Wide research was carried out, aimed at pinpointing its usage both on the Internet, among bloggers and film forum members, as well as in academic papers. It turns out that the term is widely used, but very scarcely defined. Moreover, it is understood in very different, often incompatible manners. At least six meanings were detected. A mainstream film can be a blockbuster, a film which propagates dominant ideologies, a realist film, a film which employs continuity editing, a film rooted in the tradition of classical Hollywood cinema, a film that is easy to comprehend. Until recently, all these meanings could be combined due to a relatively high degree of uniformity within film culture, but now, when Cinema is experiencing growing diversification in all spheres, it is probably better not to use it at all.
Bibliografia
Adamczak, M. (2018). W cieniu bomby. O dystrybucji filmowej. http://www.dwutygodnik.com/artykul/7334-w-cieniu-bomby-o-dystrybucji-filmowej.html [accessed: 01-04-18].
Balcerzak, G. (2013). Films that conform or subvert to Hollywood mainstream standards. https://gabrielabalcerzak.wordpress.com/category/hollywood-mainstream-film/ (accessed: 28.04.17].
Betman, G. (2003). First Time Director: How to Make Your Breakthrough Movie. Studio City, CA: Michael Wiese.
Boussinot, R. (ed) (1967). L'Encyclopédie du cinema. Bordas.
Bordwell, D., Steiger, J., Thompson, K., (1985). Classical Hollywood Cinema. Film Style and Mode of Production to 1960. London: Routledge.
Bordwell, D., (1986). Narration in the Fiction Film. London: Routledge.
Bordwell, D. (2006). The Way Hollywood Tells It. Story and Style in Modern Movies, University of California Press, Berkeley, Los Angeles, London.
Bromley, J. (2010). The difference between mainstream and independent film. Sunday, 31 October. http://jakesmediablog1.blogspot.com/2010/10/differences-between-mainstream-and.html [accessed: 02.05.2017].
Brown, W. (2013). Supercinema. Film-Philosophy for the Digital Age. Berghahn.
Cambridge English Dictionary, https://dictionary.cambridge.org/dictionary/english/mainstream (accessed: 20.04.2018).
Carroll, N. (1996). The Power of the Movies. "Daedalus", Fall 1985; in: Carroll, N. (1996). Theorizing the Moving Image. Cambridge University Press, 1996.
Culture Snob. (2009), What Is Mainstream. http://www.culturesnob.net/2009/12/what-ismainstream/[accessed 28.04.2017].
Elsaesser, T. (2009). The Mind-game film, in: Buckland, W. (ed). Puzzle films. Complex storytelling in contemporary cinema, , Malden: Wiley-Blackwell.
Elsaesser, T. (2011). Access for All: Avatar and Hollywood's Global Public. "New Review of Film and Television Studies" Vol. 9, Issue 3: 247-264.
Elsaesser, T. (2012). Persistence of Hollywood. London-New York: Routledge.
Faulkner, S. (ed) (2016), Middlebrow Cinema, London-New York: Routledge.
Fourie, P.J. (2001), Film Theory and Criticism, in: Fourie, P.J. (ed). Media Studies vol 2: Content, Audiences and Production. Juta Education, Landsdowne (South Africa).
Grant, B. K. (ed) (2007). Schirmer Encyclopedia of Film. Detroit, N.Y. London.
Hayward, S. (2013) Cinema Studies. The Key Concepts. Fourth Edition, London-New York: Routledge.
Hebdige, D. (1979). Subculture: The Meaning of Style. London: Routledge.
Heurling, B. (ed) (1985). Bra Böckers Film och Tv Lexikon. Hofanas.
Jenkins, H. (2006), Kultura konwergencji. Zderzenie starych i nowych mediów. przeł. M. Bernatowicz, M. Filiciak, Warszawa: Wydawnictwo Akademickie i Profesjonalne.
Karja, A-V, (2006). A prescribed alternative mainstream: popular music and canon formation."Popular Music" (2006) Volume 25/1.
Katz, E. (2001). The Macmillian International Film Encyclopedia. Fourth Edition, Macmillan Publishers.
Lubelski, T. (ed). (2010). Encyklopedia kina, Krakow: Biały Kruk.
Mišikova, K. (2018). Red Is the New Black. Storytelling and Style in Candidate (2013) and The Red Captain (2016), "Panoptikum".
Oxford Dictionaries: https://en.oxforddictionaries.com/definition/mainstream (accessed: 20.04.2018).
Passek, J-L. (ed) (1995). Dictionnaire du cinema. Larousse.
Rosenstone, R. A. (1995). The Historical Film as Real History, "Film-Historica", Vol. V, No.1: 5-23; http://www.culturahistorica.es/rosenstone/historical_film.pdf.
Singh, N. M. (2013). Explain the difference between Mainstream and Parallel Cinema, http://ugcnet-masscom.blogspot.com/2013/09/explain-difference-between-mainstream.html [accessed: 02.05.17].
Thornton, S. (1995). Club Cultures: Music, Media and Subcultural Capital. Cambridge: Polity Press.
Toynbee, J. (2002). Mainstreaming, from hegemonic centre to global networks. W: Popular Music Studies, ed. D. Hesmondhalgh and K. Negus, London: Arnold).
Weiher-Sitkiewicz, K (2018). W poszukiwaniu głównego nurtu w polskim kinie współczesnym. "Panoptikum".
Wyatt, J. (1994). High Concept: Movies and Marketing in Hollywood. University of Texas.
Wyres, B. (2014). Media Portfolio. Differences between Mainstream Cinema and Art. House Cinema, https://benwyre.wordpress.com/2014/02/06/differences-between-mainstreamcinema-and-art-house-cinema/ [accessed: 04-05.2017] https://simple.wikipedia.org/wiki/Mainstream [accessed: 05.05.2017] FGK.
Arts and Faith. (2006). http://artsandfaith.com/index.php?/topic/7661-what-makes-amoviefilm-mainstream/ [accessed: 03.05.17. boxoffice.pl.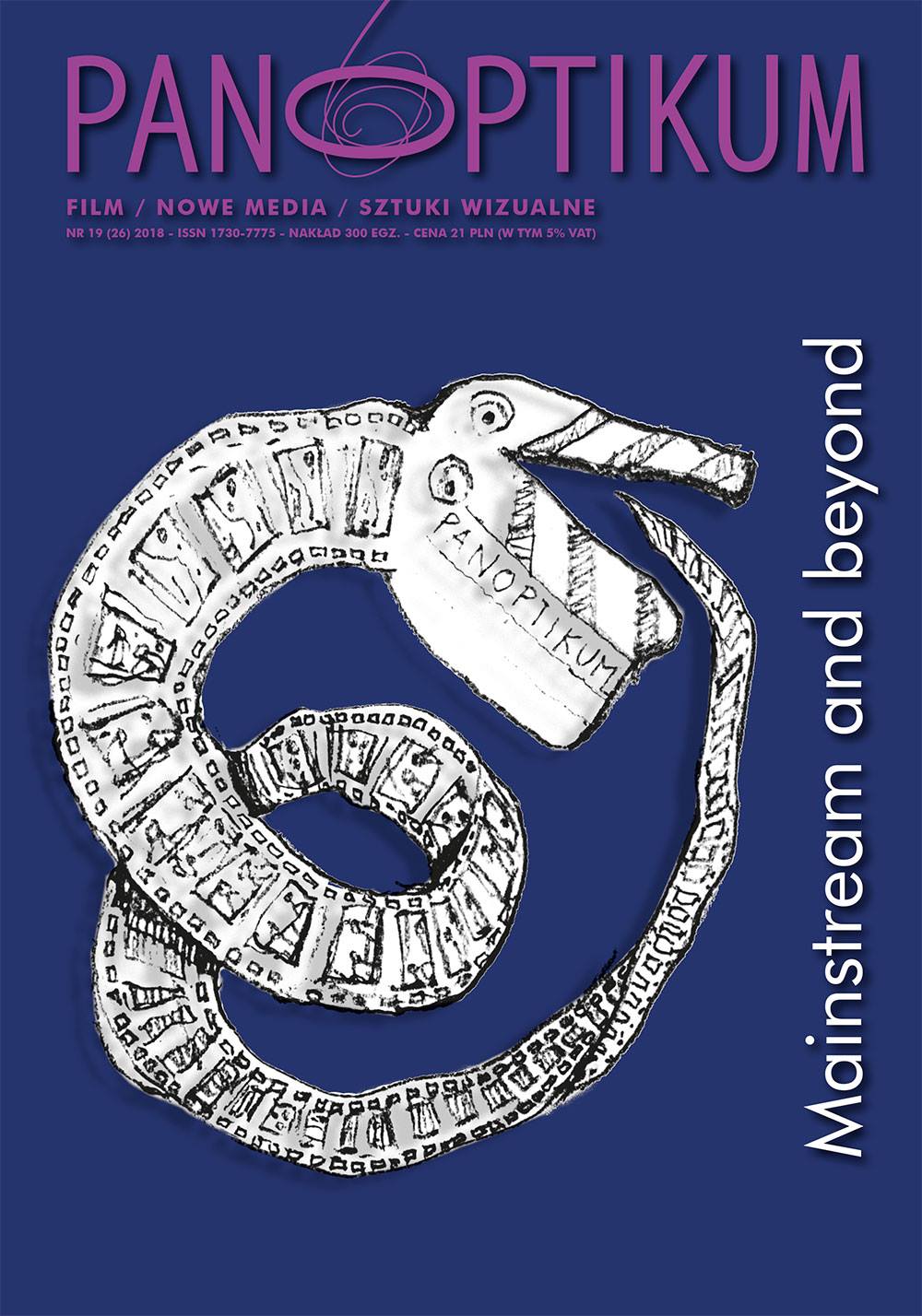 Jak cytować
Przylipiak, M. (2018). The Notion of Mainstream Film in Contemporary Cinema. Panoptikum, (19), 14-31. https://doi.org/10.26881/pan.2018.19.01