Spaces of difference. Narration in animation/liveaction hybrid films
Słowa kluczowe:
rotoscopy, motion capture, space in the film, the parallel worlds, cartoon
Abstrakt
The aim of this paper is to focus on the ways of using animation as well as its function in live-action/ animation hybrid films. The usage of animation in narratives of such type of movies can vary. However, what connects them is the way of telling the story, based on the juxtaposition of two different realities that interact in a number of ways. The ways of combining the two worlds can be very different: animation may symbolize what is fantastic, as in pioneer McCay's 'Gertie the Dinosaur', but also what is imagined, felt, thought out, once lived, dreamed of, alternative. The article describes the differences between classic hybrids and contemporary films.
Downloads
Download data is not yet available.
Bibliografia
Filmography:
'A Scanner Darkly' (2006) by Richard Linklater
'Avatar' (2009) by James Cameron
'Bedknobs and Broomsticks' (1971) by Robert Stevenson
'Beetlejuice' (1988) by Tim Burton
'Close Encounters of the Third Kind' (1977) by Steven Spielberg
'Cool World' (1992) by Ralph Bakshi
'Coonskin' (1975) by Ralph Bakshi
'Enchanted' (2007) by Kevin Lima
'Fantasmagorie' (1908) by Emil Cohl
'Final Fantasy: The Spirits Within' (2001) by Hironobu Sakaguchi
'Foxtrot' (2017) by Samuel Maoz
'Gertie the Dinosaur' (1914) by Winsor McCay
'Heavy Metal' (1981) by Gerald Potterton
'Heavy Traffic' (1973) by Ralph Bakshi
'Humorous Phases of Funny Faces' (1906) by James Stuart Blackton
'James and the Giant Peach' (1996) by Henry Selick
'Kill Bill: Vol. 1' (2003) by Quentin Tarantino
'King-Kong' (1933) by Merian C. Cooper, Ernest B. Schoedsack
'Last Action Hero' (1993) by John McTiernan
'Little Nemo' (1911) by Winsor McCay
'Lord of the Rings' (1978) by Ralph Bakshi
'Mars Attacks!' (1996) by Tim Burton
'Mary Poppins Returns' (2018) by Rob Marshall
'Mary Poppins' (1964) by Robert Stevenson
'Miss Potter' (2006) by Chris Noonan
'Monty Python and The Holy Grail' (1975) by Terry Gilliam
'Osmosis Jones' (2001) by Peter Farrelly
'Out of the Inkwell' (1918-1929) by The Flaischer Brothers
'Pete's Dragon' (1977) by Don Chaffey
'Polar Express' (2004) by Robert Zemeckis
'Ready Player One' (2018) by Steven Spielberg
'Rogue One: A Star Wars Story' (2016) by Gareth Edwards
'Scott Pilgrim vs The World' (2010) by Edgar Wright
'Snow White and the Seven Dwarfs' (1937) by David Hand
'Song of the South' (1946) by Harve Foster
'Space Jam' (1996) by Joe Pytka
'Star Wars' (1977) by George Lucas
'Summer' (2018) by Kiriłł Sieriebriennikow
'The Big Short' (2015) by Adam McKay
'The Congress' (2013) by Ari Folman
'The Diary of a Teenage Girl' (2015) by Marielle Heller
'The Incredible Mr. Limpet' (1964) by Arthur Lubin
'The Lego Movie 2 - The Second Part' (2019) by Mike Mitchell
'The Lego Movie' (2014) by Phil Lord, Christopher Miller
'The Life Aquatic with Steve Zissou' (2004) by Wes Anderson
'The Monster Calls' (2016) by J.A Bayona
'The Science of Sleep' (2006) by Michel Gondry
'The SpongeBob SquarePants Movie' (2004) by Stephen Hillenburg
'The Three Caballeros' (1944) by Norman Ferguson
'TRON' (1982) by Steven Lisberger
'Waking Life' (2001) by Richard Linklater
'Who Framed Roger Rabbit' (1988) by Robert Zemeckis
Bordwell, D. (1985). Narration in the Fiction Film. Wisconsin: The University of Wisconsin Press.
Cornea, Ch. (2010). 2-D performance and the re-animated actor in science fiction cinema, in Genre and Performance: Film and Television, Cornea, Ch. (ed.). Oxford: Oxford University Press.
Crafton, D. (1993). Before Mickey. The Animated Film 1898-1928. Chicago and London: University of Chicago Press.
Darley, A. (2007). Bone of Contention. Thoughts on the Study of Animation, "Animation. An Interdisciplinary Journal", 2.
Goodall, J. (2017). Hybridity and the End of Innocence, in The Illusion of Life II: More essays of Animation, Cholodenko, A. (ed.). Sydney: Power Publications.
Kino Nowej Przygody. (2011) Szyłak, J. and others (eds.). Gdańsk: słowo/obraz terytoria.
Langer, M. (2004). From the Guest Editor. "Animation Journal", no. 12.
Ling-Yuan, F. L. (2013). The Interface Between Live Action and Animation in Contemporary Film, in The London Film and Media Reader 1.
Drummond, P. (ed.). London: The London Symposium & Academic Conferences London Ltd.
Ling-Yuan, F. L. (2014) Doubling the Duality: A Theoretical and Practical Investigation into Materiality and Embodiment of Meaning in the Integration of Live Action and Animation. Newcastle upon Tyne: Cambridge Scholars Publishing.
MacDowell, J. (2012). Wes Anderson, tone and the quirky sensibility, "New Review of Film and Television Studies", no. 10.
Manovich, L. (2001) The Language of New Media. Massachusetts: The MIT Press Cambridge.
McHale, B. (2004). Postmodernist Fiction. London and New York: Taylor & Francis e-Library.
Medeiros, J. (2014). How Andy Serkis changed the face of film-making, https://www.wired. co.uk/article/planet-of-the-apes-andy-serkis [accessed on 31 March 2018].
Menache, A. (2000). Understanding Motion Capture for Computer Animation and Video Games. Academic Press.
Płażewski, J. (1986). "Nowa Przygoda" i co dalej?. "Kino", no. 5.
Sitkiewicz, P. (2009). Małe wielkie kino. Film animowany od narodzin do końca okresu klasycznego. Gdańsk: słowo/obraz terytoria.
Sobchack, V. (2008). The Line and the Animorph or "Travel Is More than Just A to B". "Animation: An Interdisciplinary Journal", no. 3.
Telotte, J. P. (2010) Animating Space. From Mickey to Wall-E. Lexington: The University Press of Kentucky.
Turner, V. (1967). The Forest of Symbols. New York: Cornell University Press.
Gennep, A. van. (2010). The Rites of Passage. London: Routledge.
Ward, P. (2005). "I was dreaming I was awake and then I woke up and found myself asleep": Dreaming, spectacle and reality in Waking Life', in The Spectacle of the Real: From Hollywood to Reality TV and Beyond. King, G. (ed.). Bristol and Portland: Intellect.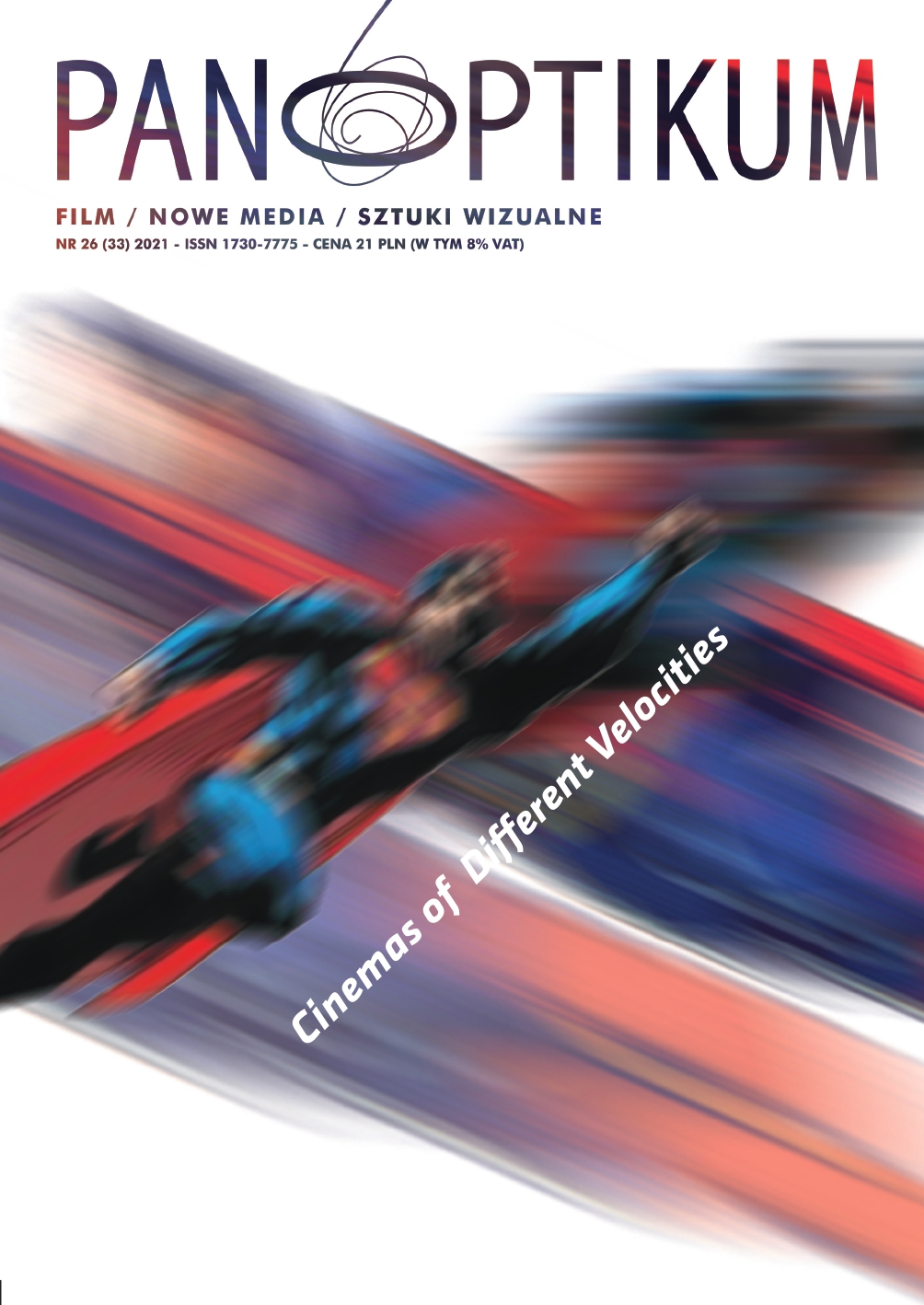 Pobrania
Jak cytować
Piepiórka, M. . (2021). Spaces of difference. Narration in animation/liveaction hybrid films. Panoptikum, (26), 189–215. https://doi.org/10.26881/pan.2021.26.09