Dziecięce konstrukcje świata w rozmowach z dorosłymi
Słowa kluczowe:
wiedza społeczna, rozmowa, rozumienie świata, dzieci
Abstrakt
The text is based on research carried out among schoolchildren of third class of primary school. It shows a way of thinking about the world typical of children and constructing their social knowledge. The text was produced as a result of series of meetings with schoolchildren of 1–3 classes and the struggle to find answers to their questions of social, existential, ethical and moral nature. It reflects childlike concepts of social knowledge. It is based on quality tests results conveyed with the usage of dialogue method. In the theoretical part there are assumptions of interpretive paradigm and theses about social interactionist theory, linguistic relativism and social and psychological constructivism as a background for the discussion. The concept of the research includes the characteristics and justification for the application of the dialogue method and in addition to that, it gives insight into the results of the research which is the reconstruction of the image of the world typical of children and reconstruction of the meanings given to social ideas by children during their conversations with adults. The research part includes the image of the world constructed by children with excerpts from their utterances, from their ways of understanding the world, their perception of their environment. It is divided into parts entitled: 'Children search', 'Children think', 'Children speak', 'Children construct'. Each part is packed with children's hot knowledge, their experience and their ways of understanding the world.
Downloads
Download data is not yet available.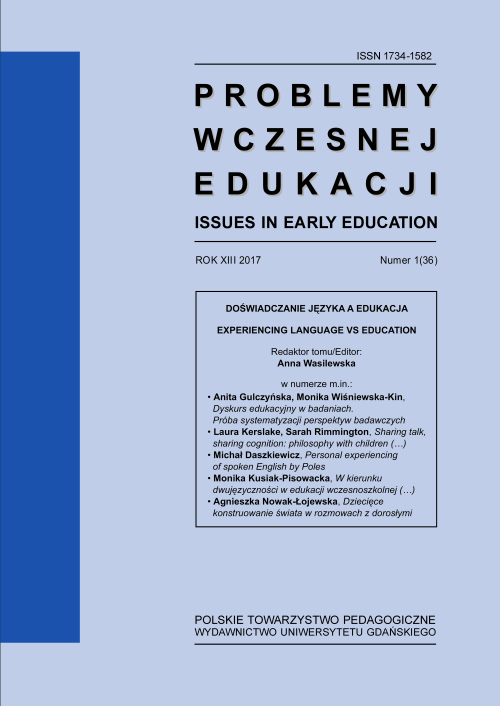 Pobrania
Jak cytować
Nowak-Łojewska, A. (2017). Dziecięce konstrukcje świata w rozmowach z dorosłymi. Problemy Wczesnej Edukacji, 36(1), 54–64. https://doi.org/10.5604/01.3001.0010.1998
Dział
Rozprawy i artykuły